An organised workspace? That's the dream! It can be your reality. Right now, you're reality probably looks a little like this . . . .
There are piles of paperwork spilling across your keyboard. You lost that really important sticky note and finding a single paper clip or binder is impossible. There are cables and power cords sticking out from everywhere.
Forgotten mugs lay desolate in a corner (there's a dead fly in one), and you're pretty sure there's a pen or two underneath the raging pile that is your bills.
In short, your workspace is an unorganised pit where your productivity goes to die.
Too harsh?
Maybe a little. Or then again, maybe not enough!
If you are tired of encountering this exact warzone of a workspace every day and you want to get serious about making a change, you have come to the right place.
Even though it all seems impossible now, by the end of this blog, you will be armed with six sure-fire ways to keep your workspace clean and organised.
Clean Your Desk Daily
Daily. I mean it.
It only takes 5 minutes of your time at the end of the day to straighten up that pile of paperwork, file away those folders and put those pens back in their caddy. Take your assorted coffee mugs, plates or containers to the sink (bonus points if you actually wash them too).
Wash away your troubles by cleaning those coffee stain rings with a damp cloth. You will be amazed by how much more productive you will feel the next morning when you sit down at your clean office desk.
A clear desk space makes for a clear mind.
Pro tip: Make sure you dust your monitor screens, wipe down your keyboard and mouse and take out your trash at the end of every week.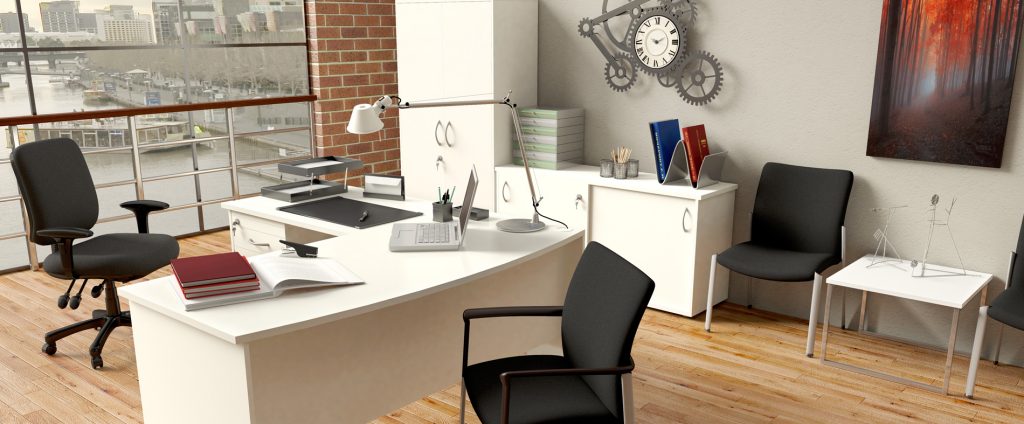 Have a Place for Everything
Tidying up your desk every-day is made so much easier when everything has a designated space. Those receipts your holding onto for tax time? They belong in a ziplock bag in your tax folder. That four pack of highlighters? They belong in your stationery drawer. Wall mounted shelving and an under-the-desk mobile
pedestal
are great ways to free-up floor space and stay organised. Bookcases are perfect for storing folders and stylishly displaying them. Some people prefer to store their important files in a
filing cabinet
rather than folders because they are sturdy, fire-resistant and they make it easier to flip through your files. It's all about preference. Whether you have a filing cabinet, cupboards, wall unit, or your store your folders in a bookcase. As long as everything has a place, and you stick to your system every day, your workspace shouldn't descend into chaos.
Embrace Desk Organisers
Desk organisers are
game changers
. They are the ultimate way to keep your stationery supplies like pens, pencils and paperclips in order. You can often find them in packs containing in & out trays, upright folder storage and pencil holders. There are even desktop organisers that your monitors can sit on with compartments for your stationery supplies. If you really want to get organised, purchase clear acrylic organisers for the drawers in your mobile pedestal and never lose a thing ever again.
Colour Code
This will change your life. Start breaking everything into categories and then assign them a colour like this:
Important documents: birth certificates, passports, marriage certificate.
Finance: credit card bills, insurance, tax documents, invoices, receipts.
Medical: immunisation records, health insurance.
Education: degrees, diplomas, school reports, school assignments.
Transport: drivers licence, passport, car insurance, car registration, car service receipts.
Buy coloured sticky-notes, coloured tabs, stickers or highlighters. Anything you need to ensure this system works for you. Expandable file folders with tabs for labelling are the best for organising your important documents by category and colour.
When you receive bills in the mail, pay it straight away, then file it away. Alternatively, you can scan the document and file it digitally to reduce paper waste.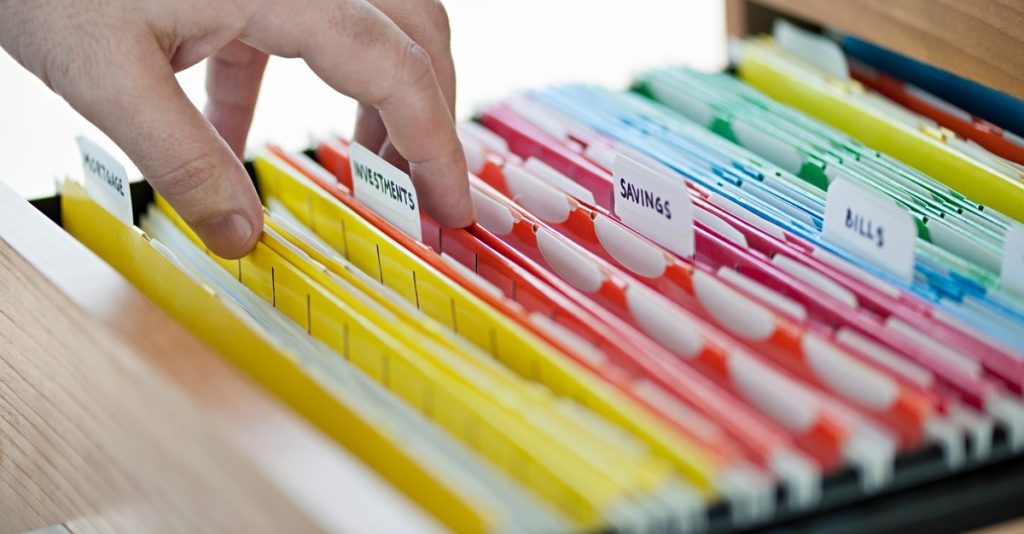 Keep Your Calendar & To-Do Lists Up to Date
There is nothing more satisfying than checking off tasks on a To Do List and crossing out dates in a Calendar.
Any time you have a new task to complete, put it on your To-Do List and schedule time for it. Anytime an event or important meeting comes up? Put it on your calendar.
It's as easy as that.
If you're more of a digital person: Google and Outlook Calendars sync across all your devices and often give you an itemised agenda. Outlook also has To-Do Lists built in as well (Or check out Wunderlist).
If you're a paper-loving person: Pin a calendar on your wall and update it with important events and deadlines. You can even buy a weekly planner to sit on your desk and write in your tasks. Or for the creative types – bullet journaling is a great way to stay organised and unleash your creative side.
Happy Organising!