An ergonomic office chair is essential for anyone who sits at a desk for long periods of time. The right ergonomic chair can have a profound effect on improving posture, back pain, and even mental well-being. Choosing the right chair can be tricky though. Technology has come a long way, and there are now many different features to consider. If you're not sure where to start, there are 20 features you should know about before buying an ergonomic chair.
Office chairs that have a synchro-tilt mechanism (also known as synchronous tilt mechanism) have backrests and seats that tilt together when you lean back, but at different degrees. The ratio is usually 2:1, so if the backrest tilts 20 degrees, the seat will only tilt 10 degrees. This allows you to keep your feet on the floor while you recline, and prevents unnecessary strain on your thighs.
High-Density Foam / Injection Moulded Foam
The foam in an office chair is important not just for comfort, but also for durability. Quality foam such as high-density foam or injection moulded foam can withstand pressure for long periods of time. This means that it will continue to support your body even after extended periods of sitting. In addition, the foam will hold its shape even after repeated uses, which will lengthen the lifespan of your chair.
As the name suggests, the tilt tension adjustment feature allows you to modify how much tilt you have on your office chair and how much tension there is when you tilt the chair back. You can activate it using a knob under the seat to increase or decrease the amount of force it takes you to tilt backward. Ideally, you want to be able to tilt your chair back easily but with enough tension to support your back while you do so.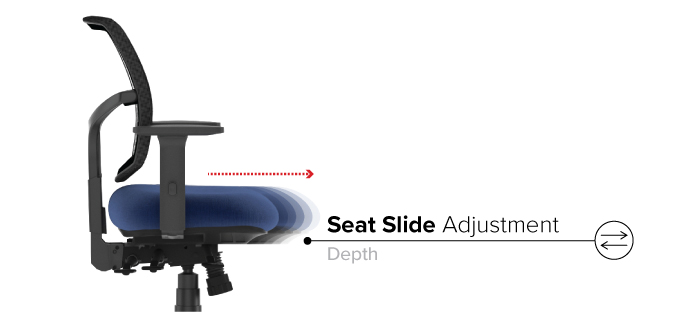 Seat depth refers to how much space you have between the seat back and the front of the seat. This is important because it affects the positions of your pelvis and knees, which in turn affect your posture. Most ergonomic office chairs have a knob or lever underneath the seat that allow you to move the seat forward and backward. The goal is to have your back fully touching the seat back and the front edge of the seat reaching to about 2 or 3 finger widths from behind the knees.
Rated Load / Weight Rating
A good ergonomic office chair will be tested and certified to ensure it can safely handle a certain amount of weight. This is called a weight rating or rated load standard. The first level of weight rating for office chairs is generally to 110 kilograms. These chairs are suitable for most people, as they can handle more than the average person's weight. Heavy-duty chairs can have rated load standards of 135 and 165 kilograms.
Mesh Seat Back / Upholstered Seat Back
Another thing to consider when buying an ergonomic office chair is the seatback material. You can opt for either a mesh seat back or an upholstered seatback. Both can be comfortable and supportive on the back. Mesh is very breathable, which makes it ideal for hot days and heated rooms. Upholstery is not as breathable, but it comes in many colours and textures, so you can customise it to your preferences and what feels best on your skin.
Adjustable Lumbar Support
The lumbar region is the lower part of the back where the spine curves gently inwards. When you sit down, the curve shortens, putting pressure on the lower vertebrae. An office chair with adjustable lumbar support will have a section on the seat back that gently presses on your lumbar region to help maintain your spine's natural curve. Lumbar support can be adjusted at the back of the backrest. Ideally, you want the lumbar support to align with your bottom five vertebrae.
Whether you're buying an office chair for the home or multiple chairs for your employees, you want to make sure that the models you choose meet health, safety, and regulatory standards. Look for ergonomic chairs that have been tested and certified by respected independent organisations such as SGS or AFRDI. This certification will let you know that the chair meets national and international standards for quality, safety, performance, and functionality.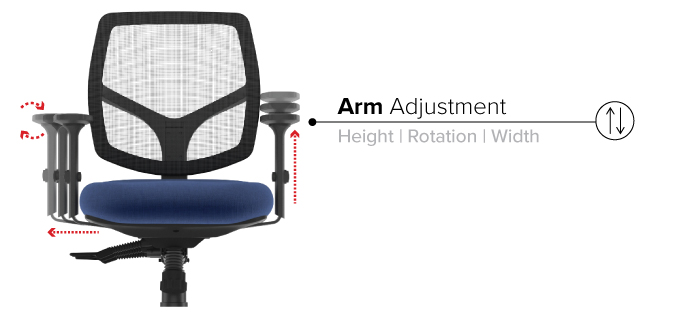 If you opt for an office chair with armrests, they should be adjustable so that you can customise them to your body and comfort level. When properly adjusted, armrests can help alleviate pressure on your upper back. Height is the most important adjustment. To find the proper height, sit in your chair and let your arms hang down. The armrests should reach your elbows. Some chairs also allow you to adjust the armrests forward and backwards and in and out.
Gas Lift Height Adjustment
A gas lift is a mechanism that raises and lowers the height of the chair. You operate it by lifting a lever under the seat that forces compressed air through a chamber, which raises or lowers the seat. To lower the seat, sit in the chair and lift the lever up. To raise it, you need to stand up and lift the lever. The seat should reach just below your kneecaps when you are standing up.
A quality ergonomic office chair should give you the option to adjust the tilt of your seat and seatback. The seat should be able to tilt forward at an angle so that you can position your pelvis in a way that alleviates pressure on your back. The seatback should also tilt so you can lean back when you want to stretch out your back and chest. This will help with better blood circulation. 
Headrests are not common features of most ergonomic office chairs, but they can be very useful for supporting the head and neck and keeping your eyes level with your computer screen. You should be able to move the headrest up and down so that you can position it at the base of your head. You should also be able to tilt back it so that your neck is straight and your head is not leaning forward.
Manual vs. Ratchet Back Height Adjustment
When it comes to adjusting the height of the backrest, you have two main choices: a manual or a ratchet system. Chairs with a manual adjustment will have a knob or lever in the back of the seat that you can use to raise and lower the seatback. With a ratchet system, you lift the back of the seat until it clicks and either lock it in place or keep raising it to the desired height.
Semi vs Fully Ergonomic Mechanisms
How customisable do you want your office chair to be? If you plan on using your chair for long periods of time day in and day out, you may want to consider a model that has fully ergonomic mechanisms so that you can adjust multiple parts to get maximum comfort. Semi Ergonomic chairs usually have gas lift height adjustment up and down and back angle adjustment. Fully ergonomic chairs have these two features plus seat tilt and seat slide adjustment.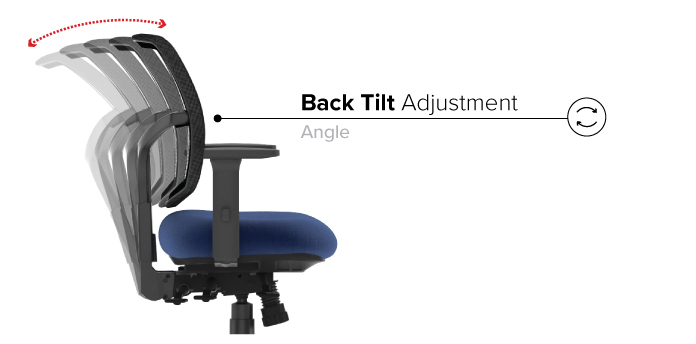 There may be times when you may want to set your office chair at a certain angle and have it stay in that position for a certain amount of time. That's where the infinite tilt mechanism comes in handy. To use the system all you have to do is tilt your chair to your preferred angle and pull a lever to lock it in place. The chair will then stay firmly in that position until you unlock the lever.
Most ergonomic office chairs are upholstered with commercial fabrics. The reason for this is that commercial fabrics are made with synthetic materials that are incredibly durable. Many are resistant to abrasion and very strong and sturdy, so they don't rip or puncture easily. Some are also UV resistant to prevent fading. In addition, many commercial fabrics are easy to clean. 
A warranty is essential to ensure that you can return your chair or replace the parts if there are any manufacturer defects or issues. Look for an office chair with at least a five to ten year warranty and be sure to purchase the chair from a company backed with a good reputation. This way you can be sure you will have support if you need it. 
Most people don't think of castors or wheels as being an ergonomic feature, but different types of castors can actually affect your comfort level. Soft tread castors are made of rubber instead of plastic like hard castors, so they give you traction on hard floors. This prevents you from sliding around unnecessarily or making sudden movements. Soft tread castors also protect hard floors against scuffs and scratches.
Need to add a bit more height to your ergonomic office chair? If so, a drafting kit is the solution. Drafting kits usually consist of an elongated gas lift or cylinder, a metal foot ring to rest your feet on, and a large base with legs and castors. A standard office chair gas-lift will take the seat from approximately 410mm to 550mm. A Drafting Gas-lift will typically take the seat from about 685mm to 950mm.
Friction and Reverse Friction Brake Castors
Castor brakes prevent your office chair from moving when you don't want it to. Friction brakes allow you to wheel the chair around while you're sitting in it. They activate as soon as you take your weight off the chair to prevent your chair from sliding away when you stand. Reverse friction brakes do the opposite. They allow you to move the chair when there is no weight on it, and they activate when you sit down. 
Finding the right ergonomic office chair is easy if you know what to look for. Each of the features in this guide can greatly improve your comfort while you work and prevent pain and injuries. They can also help increase your productivity and give you better peace of mind.