It can certainly be difficult to stay active during your workday when you work 9-5 Monday to Friday and have little opportunity to get moving. The day goes too quickly, or some days, too slowly, and the last thing on your mind is hitting the gym. Staying active during your workday doesn't have to be painful, time consuming or even strenuous.
The secret to staying active is all in how you manage your time.
By the end of this post you will not only be more knowledgeable about Australia's current health standards, but you will also leave with a few easy ideas to get some physical activity in your day.
First, let's have a look at the facts:
The Australian Health Survey 2014–2015 revealed that only 56% of Australian adults aged 18–64 years meet the level of physical activity recommended by current guidelines (150 minutes of moderate physical activity or 75 minutes of vigorous physical activity per week).
More than 11 million Australians (50%) had at least one of eight selected chronic conditions (arthritis, asthma, back problems, cancer, chronic obstructive pulmonary disease, cardiovascular disease, diabetes mellitus, or a mental or behavioural condition).
11 million people aged 18 and over, 63% of Australian adults, were overweight or obese. Only about one-third (35%) of Australian adults were in the normal weight range (AHS 2014-2915).
A 2014 report on Australia's Changing Workforce recorded that 65 per cent of Australia's population aged 15 and over were employed with nearly 70 per cent of those working full time and 30 per cent working part time.
Top it off with the fact that working adults spend around 70-80% of their working time sedentary and you have a recipe for poor health outcomes.
So what can you do to stay active?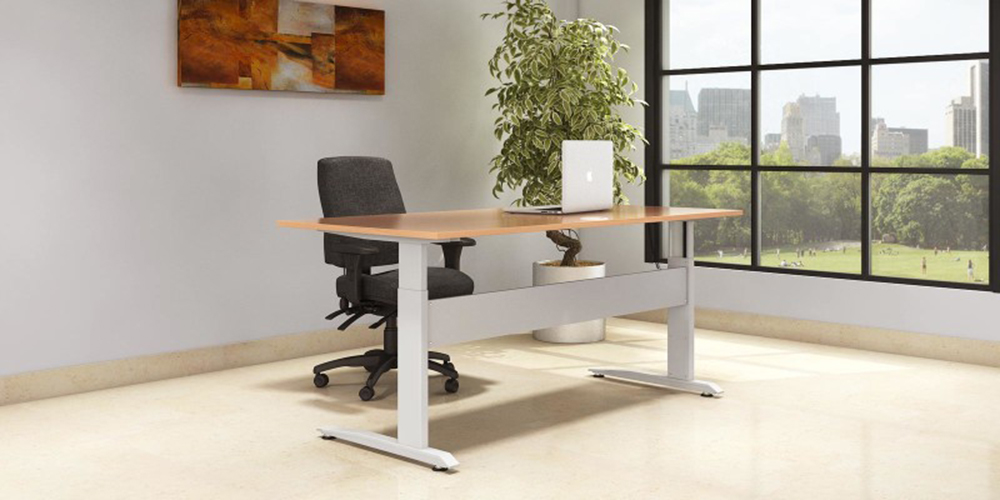 Get A Standing Desk
Many businesses have invested in Standing Desks and Sit-Stand Desks in the last few years and it's easy to see why. We've mentioned this all before in our previous blogpost on the 6 Health Benefits of Standing Desks – using a standing or sit stand desk enables you to straighten your posture, speed up your metabolism and burn some extra calories.
Standing for short periods of time is an easy way to get some more activity into your workday.
The best Sit-Stand Desks are electronically height adjustable and allow you to program your ideal sitting and standing heights into the control. The key is to build up your resistance slowly. Try standing up for 20-minute intervals every hour or every 2-3 hours. We also recommend you wear comfortable shoes that help support your feet.
Exercise on your Lunch Break
Your lunch break is 20-30 minutes (or 60 minutes, if you're lucky) that you'll never get back.
Spend it more productively!
Take walking lunch breaks and pack lunches that you can eat on-the-go like sandwiches, wraps, sushi, smoothies, energy and muesli bars and healthy muffins. You could even invite one or 2 of your colleagues along for your walk and make it a social event. If you're feeling really daring you could even run! Ensure you wear comfortable shoes or pack a spare pair of shoes to change into.
You could even hit the gym for your lunch break (if you have enough time).
Top Tip: Bring a water bottle, running shoes, a change of gym clothes, deodorant and a towel in a gym bag for those particularly sweaty sessions.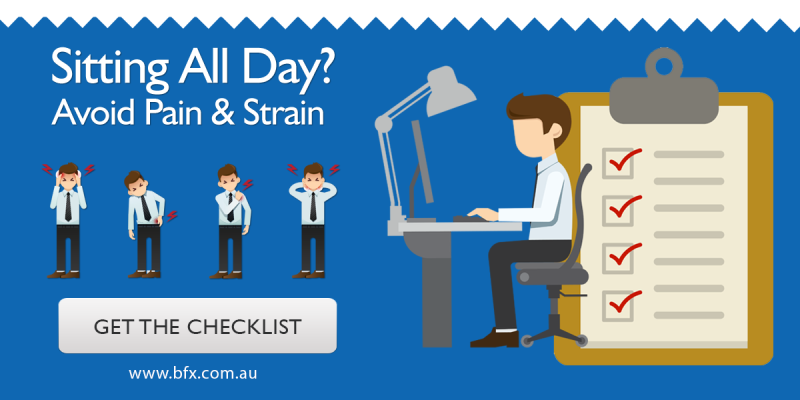 Invest in a Fitness Tracker
There are plenty of fitness trackers on the market to help you stay active during your workday. Now might be the time to invest in one. The popular ones like the Fitbit or Samsung Gear Fit 2 are great all-around trackers that work with an app on your smartphone that allows you to track your progress and earn badges. Most have a heart rate monitor, pedometer and great battery life.
Trackers allow you to get an idea of just how much activity you're getting (or not getting) throughout the workday. You'll find you'll be more inclined to take the stairs, walk on your lunch break or park your car further away.
Don't want to spend the money on expensive fitness trackers? No problem! There are plenty of free step counter apps that work with your phone's GPS.
Walk or Ride to Work
Save time, money and improve your fitness. It might not always be a feasible option depending on how far you have to travel to get to work. However, in cities or small towns, it's more achievable. Not only does this count towards your weekly recommended physical activity, your also saving money on fuel or public transport fees. Another perk is you're rarely slowed down by things out of your control like congestion or car accidents.
If walking or riding all of the way isn't an option, you could do it halfway. Ride to the train station (make sure you have a bike lock handy) and catch the train the rest of the way.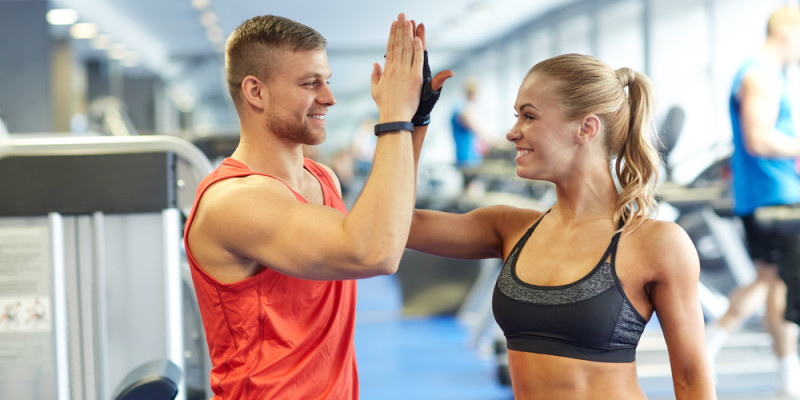 Do Some Stretching
This seems like the simplest tip in the world. But stretching can stimulate blood flow, loosen tight muscles, relieve stress and give you an energy boost.
Start with a simple neck rotation from left to right and roll your neck all the way around.
Stand up, touch your toes.
Whilst standing, raise your arms over your head and stretch up on your tip-toes.
Stretch your right arm across your chest to the left and use your left arm to stretch it out, then swap.
Rotate your shoulders. Starting with your left one in clockwise motions then anti-clockwise. Switch to the right shoulder and do the same.
Whilst sitting you can even do leg extensions, squeezing all through your thigh muscles.
Rotate your feet, right foot then left foot, first clockwise and then anti-clockwise.
Exercise at Your Desk
Get creative and try some desk exercises. Get balance ball and work your core, try leg extensions, cubicle dips, wall sits, desk yoga, wall push-ups, bring a set of weights and do some chair exercises. Start a little office competition on who can do the longest wall sit or plank and encourage anyone and everyone to break the record. There are plenty of easy exercises for the office and videos to show you exactly how to do them.
Check out this 2-part series here.
These easy tips and tricks will have you managing your time to be a little more active during your work day like a pro. We hope you found them helpful!