In recent years we've seen a massive increase in open-plan offices coming into the corporate world. From multi-million dollar corporations to medium and even small businesses, open plan offices are popular for a variety of reasons.
They're cost-effective. They facilitate collaboration and the exchange of ideas. They break down barriers between co-workers, and they can even result in happier and more productive employees.
That's not to say that there aren't some mixed responses. Open plan offices tend to get a bad rap usually when there isn't enough thought involved in the initial office design and layout.
People complain that their new open office is too noisy, there's not enough privacy, they're distracted, feeling exposed and they can't hear their co-workers properly when they actually need to.
So, here's where a bit of clever design comes in handy.
Want more privacy? Sound-proofing? Fewer distractions?
These 6 design hacks and top tips can help you get back your precious privacy (and sanity).
If you're currently thinking about setting up an open-plan office, you need to make this your essential checklist BEFORE you get started.
1. Set up Designated Quiet Spaces
This one sort of goes without saying. We all need a fully focused and quiet space from time to time.
Whether its to take an important phone call, or hold a meeting, having a designated quiet space is essential in an open plan office. The space should be specifically reserved for individual or quiet work.
Creating designated zones will help contain noise to certain areas. You can use furniture to break up the room and create more intimate spaces.
ideas for quiet spaces:
Glass office or meeting room
Booth with high walls
Booth lounge with high back and sides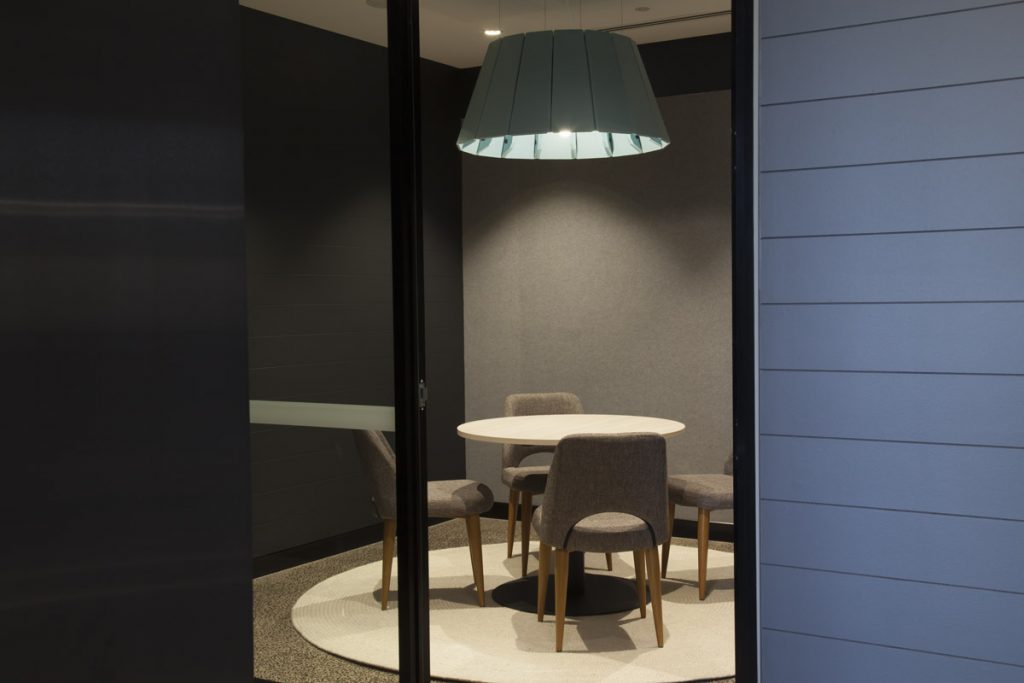 2. Set up Designated Collaborative Spaces
In addition to quiet spaces, you can set up spaces that are specifically meant for collaborating with co-workers. Collaborative settings are ideal for a team or department that constantly needs to work together or give feedback to one another.
These collaborative spaces might include co-working desks, shared lounges or meeting spaces.
3. Set up Screening for Privacy
Whether it be freestanding or desk mounted screening, full to floor, fly-by or wrap around, screening can give you varying amounts of privacy without feeling too closed off from your team.
Freestanding screens are ideal for partitioning off separate areas like open lounge areas or meeting tables. Pinable Freestanding screens also offer a practical place to fix important notes and graphics for easy reference.
Office workstations with desk mounted screening are by far the most popular option for open plan offices. They offer a degree of privacy, team spaces, focused individual spaces and there are many possible configurations to maximise the potential of the space.
BFX Furniture carries three core ranges of screening. Urban Screening, Cosmo Screening and Civic Screening.
Each is specifically designed with:
Optional cable management systems
Power and data management options
Added strength & stability
Thick panels that minimise sound
Multiple leg options
Wide range of screening colours to complement any colour scheme
Top Tip
Large, flat and hard surfaces can amplify sound. Adding wall panels with textured or acoustic absorbing fabric can help minimise noise. Not only does this make for interesting wall art, but it also does a great job at dampening some noise too.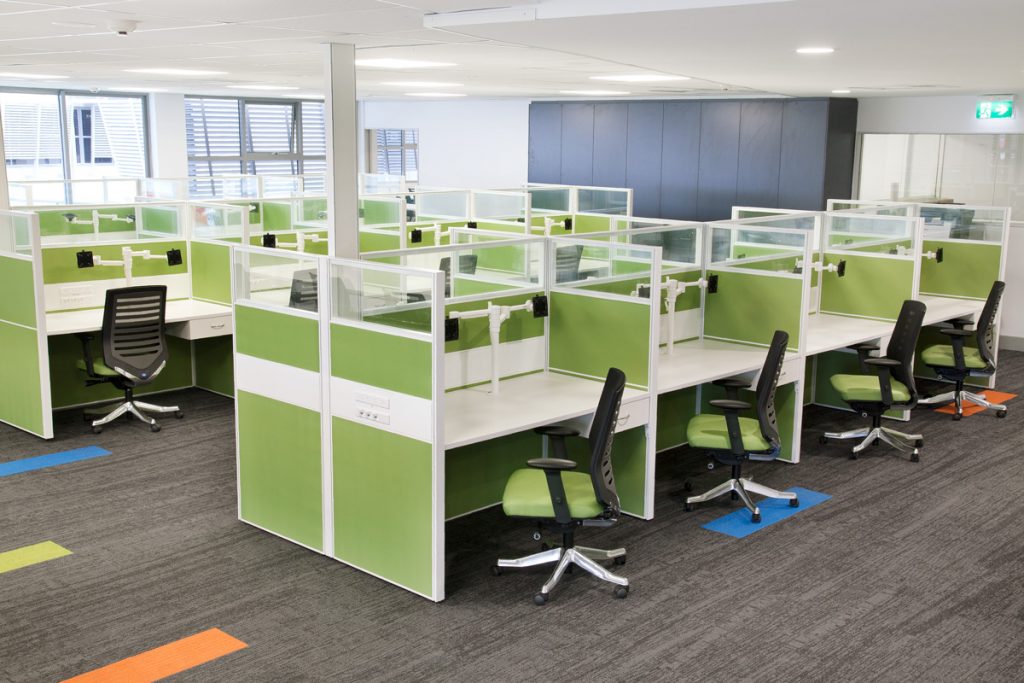 4. Reduce Noise with Soft Furnishing
Soft furnishing like two-seater lounges, armchairs and thick floor-length curtains a practical way to deaden some of the disruptive sounds of an office. Carpets and rugs not only provide a more gentle surface to walk on, but they also absorb reflective sound.
How often have you been mildly irritated by the click-clacking of someone's high heels on hardwood or tiled floors as they walk past your workspace?
Lounge areas also help section off areas and create a more inviting look and feel.
5. Separate Spaces with Plants
Who doesn't want more greenery in their office? Plants are a great way to liven things up, improve the air quality and subtly section off your workspace from your co-workers.
Leafy ferns and hanging plants cascading out of their pots make for an attractive aesthetic.
If you're a notorious killer of plants, don't worry, you're not alone. Fake plants might be a better way to go, especially if your offices don't always have the best natural sunlight.
6. Invest in Some Noise-Cancelling Headphones
Sometimes when it comes to blocking out the noise of a busy open plan office, you can't beat a great set of headphones.
Having your earbuds in or headphones effectively puts a 'do-not-disturb' sign on you.
You'll be able to focus on your work and experience fewer interruptions. Besides, having an upbeat playlist of your favourite music running in the background can do wonders for your motivation.