Updated from Best Colours For A Relaxed Office 2013
Choosing your colour scheme can either be one of two things . . . . it can be the most neglected part of setting up your office or it can be the most fun!
Let's set the scene . . . .
You're a small to medium sized company. You've set your budget, calculated your costs and searched for months and months until, finally, you've found the perfect building to set up your business. You've got a blank canvas on which you can paint the masterpiece that will become central to your successful business operations.
But you're stuck . . . . . how do you even begin trying to decide how your office should look? How it should feel? What kind of furniture you should buy? What kind of atmosphere you want to create for your clients? What colours you should incorporate into the space?
There is just so much to consider! We can practically feel your stress emanating through the screen . . . . So, whether you're just starting out, or you want to completely re-design and revamp your existing office, we're here to help you out.
Choose Your Colour Scheme
Generally speaking, a colour scheme incorporates 4-5 complementary colours and shades.
Don't be afraid to request colour swatches from your hardware store or furniture supplier.
Try using an online 12-part colour wheel to select your colours or step it up a notch and experiment with pantones to find your ideal shades, tints and tones. Pair analogous colours with complementary colours to create a sense of depth to your colour palette.
Another good rule of thumb is to pick a dominant colour, secondary colour and accent colour. These three colours should complement each other and be easily distinguishable from each other, whether their different shades of one another or complete opposites.
Its up to you to decide where these colours go. The walls? Furniture? Cushions? The artwork? The choice is completely yours!
Find out more about How to Create Your Own Colour Schemes here.
Top Tip: 
To add more dimension to your colour scheme, consider incorporating different textures.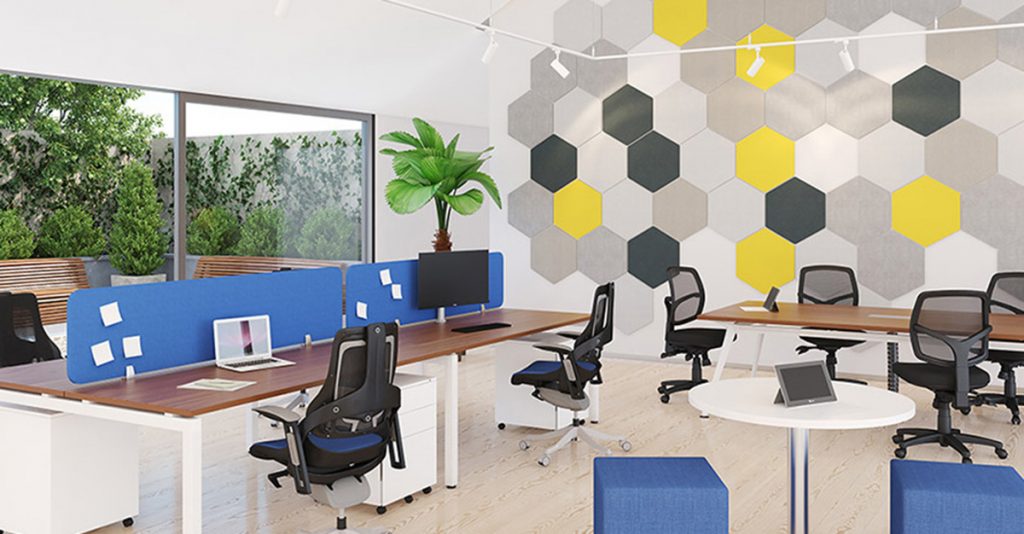 Bring Your Walls to Life
Your wall colours are a big choice and can often over-dominate anything else you introduce into the space. So, choose wisely. Some businesses will simply choose the colours associated with their branding. But there's a reason blues and greens are popular in hospitals, clinics, pathologies and psychiatrists' offices. They are soothing colours and can pair well with anything.
Green, as a more earthier tone, often makes us think of trees, lushness, greenery and evokes a feeling of refreshment and relaxation.
Blue naturally makes us think of the sky or the ocean and is soothing to look at. It can also calms nerves and improve connections in the workplace.
Or you could paint your walls shades of white, cream and beige to make the room feel more bright and spacious.
Want to know the secret to avoiding the clinical look and feel of a white office?
Incorporate Colour with Your Furniture, Décor and Artwork
Adding colour to your office doesn't have to begin and end with your walls. A cohesive colour scheme works across your furniture pieces, your fittings and fixtures, décor, artwork and your flooring.
Furniture with bright, modern colours and designs can bring an element of excitement and energy into the space. Or if you've selected a vibrant colour scheme for your walls and décor . . . . choose lounges, visitor chairs and reception furniture in more cooler tones like white, cream and beige. This will really make your vibrant colours pop.
If you're really not sure, why not get expert advice? One of our Furniture Consultant Specialists will be more than happy to help you transform your office from drab to fab in no time!