Do you work in a noisy open office?
Anyone that has ever worked or currently works in an open plan office knows that they aren't the best when it comes to privacy and noise.
In fact, according to a 2013 study by the University of Sydney, a lack of sound privacy was the biggest drain on employee morale and resulted in a loss of 86 minutes of productivity per day. We all know noise can be distracting, but when it seriously affects our ability to do our job, we have a real problem.
Don't pack up your office supplies and move to a quiet private office just yet!
I'm going to let you in on a little secret.
Architects and designers are actual wizards.
It is nothing short of magical how good design can be the difference between a harmonious environment and a chaotic one. Something you may not know about office design is how it can minimise noise.
How do you ask?
We'll tell you how!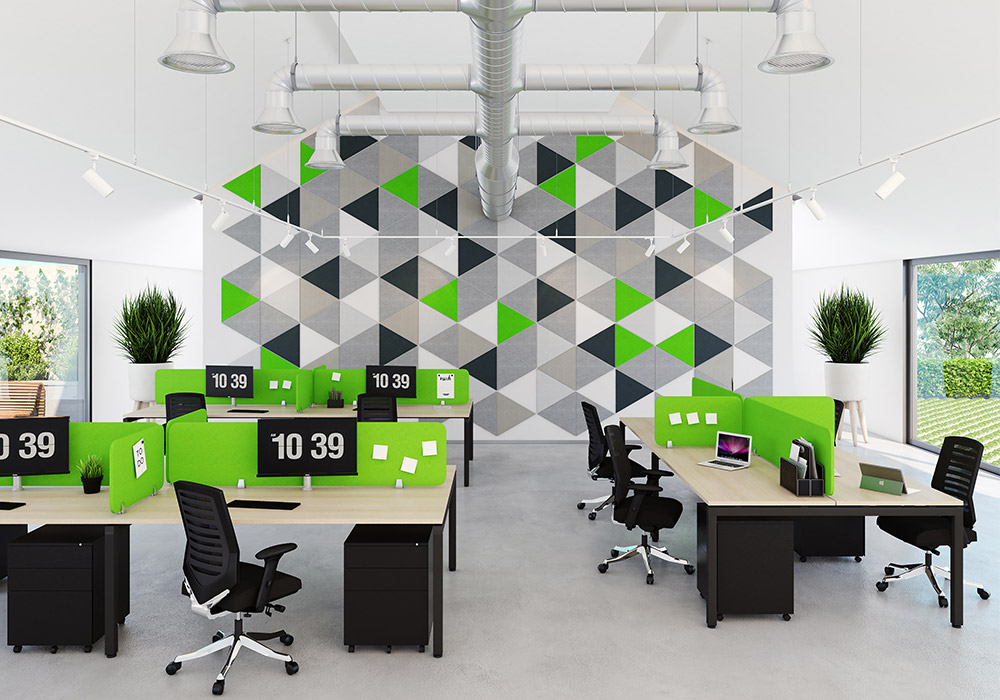 Install Acoustic Wall Panels
Installing high-performance acoustic panelling on the walls reduces reverberation times, thereby reducing the amount of noise reflected back into the room.
AudioArt, our sound absorbing wall art achieved outstanding sound absorption results in the frequency range of 100Hz to 4000Hz.
Key results with 100mm air gap:
92 NRC at 500hz – 92% noise absorption
96 NRC at 800hz – 96% noise absorption
88 NRC at 1250hz – 88% noise absorption
AudioArt is made from 100% recyclable polyester fibre board. The board is 9mm thick and can be wall mounted with semi-permanent adhesive strips or permanent peel and stick backing.
Our Geo Patterns feature colourful geometric inspired designs that make for the perfect accent piece for receptions, open plan offices and boardrooms.
Loud spaces like meeting and brainstorming areas can significantly benefit from having AudioArt mounted to the walls to prevent noise from carrying around the room and distracting other employees.
Top Tip
If you have noisy upstairs office neighbours or if you want to keep your office design minimal but still implement acoustic panelling to absorb noise, consider installing acoustic ceiling panels instead. They work in a similar way as wall panels but are more discreet and won't affect the current style of your office.
Soundproof Windows
One thing you may not think has a massive impact on how noise travels are your windows.
If your office is located in a busy city and only has single glazed windows, you're more likely to be able to hear the honking of horns, police sirens or construction work. Apart from being thin and not very energy efficient, single glazed windows struggle to contain noise.
Soundproofing your windows can make a big difference. Double glazed windows feature two sheets of thicker glass and provide better acoustic insulation.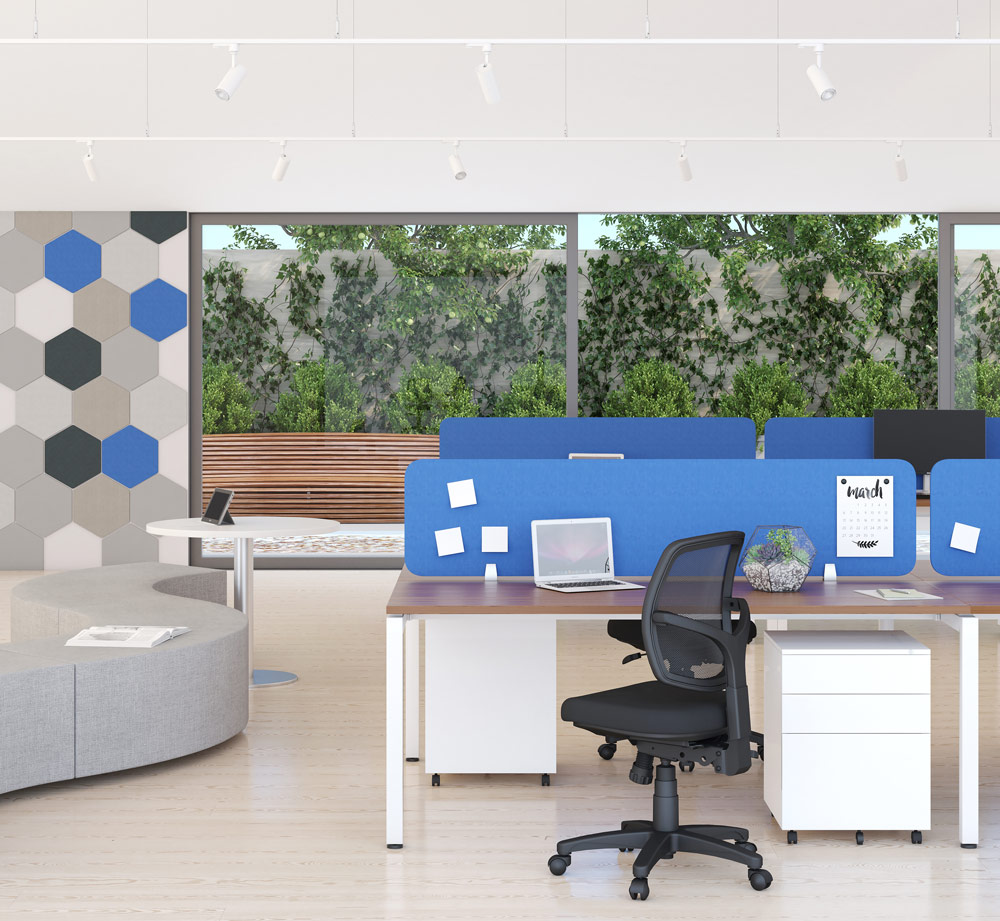 Reduce Noise with Soft Furnishing
Soft furnishing like two-seater lounges, armchairs and ottomans are a practical way to deaden some of the disruptive noise that travels around an office.
They also provide functional seating or lounging areas. Lounge areas help section off work areas and create a more inviting look and feel. Choose lounges in neutral tones and pair them with a rug that offers a pop of colour or a bold pattern to add some interest into the space.
Top Tip
Breaking up your open plan office into designated Activity-Based Working zones is an effective way to not only create functional spaces but also contain noise to certain areas.
Screening
Freestanding floor screening and Office Workstation screening can be used to effectively partition work areas and reduce the amount of distracting noise.
Freestanding screens are ideal for partitioning off separate areas like open lounge areas or meeting tables. Pinnable Freestanding screens also offer a practical place to fix important notes and documents for easy reference.
Office workstations with desk mounted screening are by far the most popular option for open plan offices. They offer a degree of privacy, team spaces, focused individual spaces and there are many possible configurations to maximise the potential of the space.
We Carry Five Different Types of Office Screening:
1. Freestanding Screening
2. Desk-mounted Full-to-Floor Screening
3. Desk-Mounted Fly-By Screening
4. Desk-Mounted Wrap Around Screening
5. Desk-Mounted Audioart Pinnable Screening
Having screening options at different heights and lengths can give you varying amounts of privacy without disturbing other employees.
Want better privacy in open plan offices? Check out our 6 Ways to Create More Privacy in an Open Plan Office.
Carpet Floors
Wooden or tiled floors tend to amplify sound. How often have you been distracted or even annoyed by the click-clacking of someone's high heels on hardwood or tiled floors as they walk past your workspace?
That's thanks to sound reverberating off the wooden floors.
Carpet is a great way to not only cushions your feet but also deadens sound. If carpeting every square foot of office space doesn't appeal to you, then consider just carpeting busy foot-traffic areas like receptions and hallways.