Enabling student learning is one of the most important activities in any school or higher learning organisation.
Virtual Learning Spaces
Space is not only defined by the physical anymore but by learning.
Space need no longer be just four walls, an office, a chair or desk for a student; it can integrate the virtual and provide another way of learning.
With innovations in information technology, virtual spaces play a major role in the evolution of traditional face-to-face classrooms.
Technology in 21st Century Learning has brought many new avenues for sharing, communicating and discovering and many enjoy the benefits of learning outside of class time.
Today, there is an increased emphasis on collaboration and group projects where students accomplish tasks outside of the classroom. Australian-based online course company, Open Colleges, released an infographic that dissects the components of a 21st century classroom. 1
According to the data, technology is making a big impact in changing education. The infographic highlights the top three reasons for teachers to use technology in the classroom.
The Top 3 Reasons Teacher's Use Technology in the Classroom:
76% Adapt to Diverse Learning Styles
77% Boost Student Motivation
76% Enhance the Material Being Taught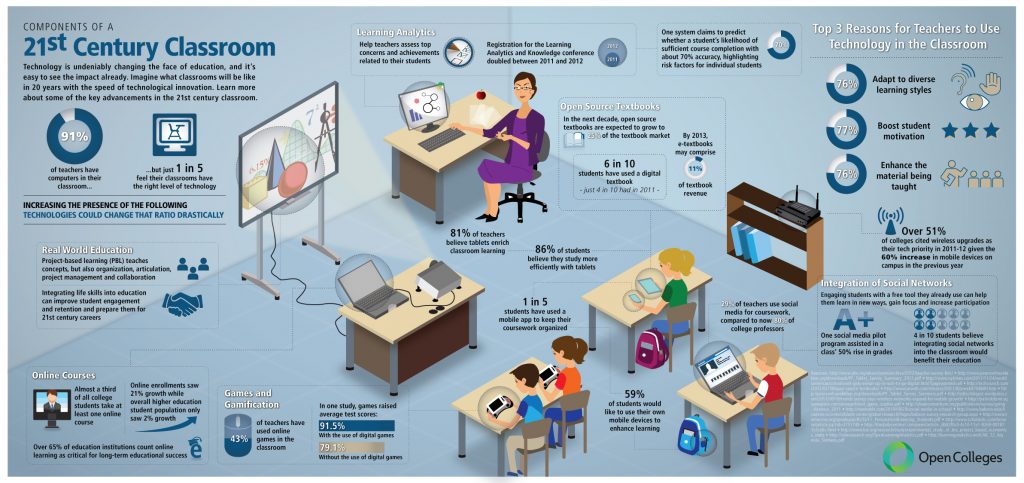 Image from Open Colleges
Student Experience With Learning
Where we place an emphasis on designing or redesigning a classroom into a learning space that incorporates virtual technologies, we can potentially have a huge impact on student-driven learning…
However, there are plenty of factors to consider:
How will the student experience be?
How will information technology be used?
Will it be personalised, collaborative or problem-centered?
How will the learning space fit into the school's vision for learning?
Can the learning space be utilized for non-class activities?
A number of studies have linked learning spaces with student achievement. For example, a study from the University of Salford said;
"Classroom design could be attributed to a 25% impact, positive or negative, on a student's progress over the course of an academic year. The difference between the best- and worst-designed classrooms covered? A full year's worth of academic progress. " 2
Learning And Technology
With the innovation of mobile devices, computers and communication technologies, there are now various forms and functions that allow students to obtain information.
Learning spaces that are agile, multi-functional and can constantly change, will be in the best position to access innovations in technology, that are also changing frequently.
Integrating technology can create new patterns of interaction for the student-driven learner, preparing he or she for the real world.
The Learning Experience can be enhanced and deepened with technology, providing opportunities for:
Developing proficiency in 21st century skills
Supporting innovative teaching and learning
Creating effective education support systems