BFX Furniture doesn't just transform learning environments with modern and flexible furniture, we now transform classroom walls from drab to fab as well. Our very first large-scale AudioArt™ Installation at St Philips Christian College in Newcastle completely blew all their expectations.
This open plan classroom was designed with zones for collaborative group work, quiet reading time, lounging and can accommodate up to 60 grade one students.
Among the group settings, our Sine Lounges and SmarTable™ Jotters offer flexible areas for lounging as well as individual work. But the real show-stopper is the AudioArt™ wall scenes. One depicting the rolling hills of autumn and the other a castle in the mountains.
These custom scenes were designed and created by our AudioArt™ Design Team in collaboration with school, their concept images and their very own BFX Education Furniture Consultant.
More schools are adopting flexible learning spaces to support bigger classes and the diverse learning needs of students. However, bigger spaces often mean noisier spaces.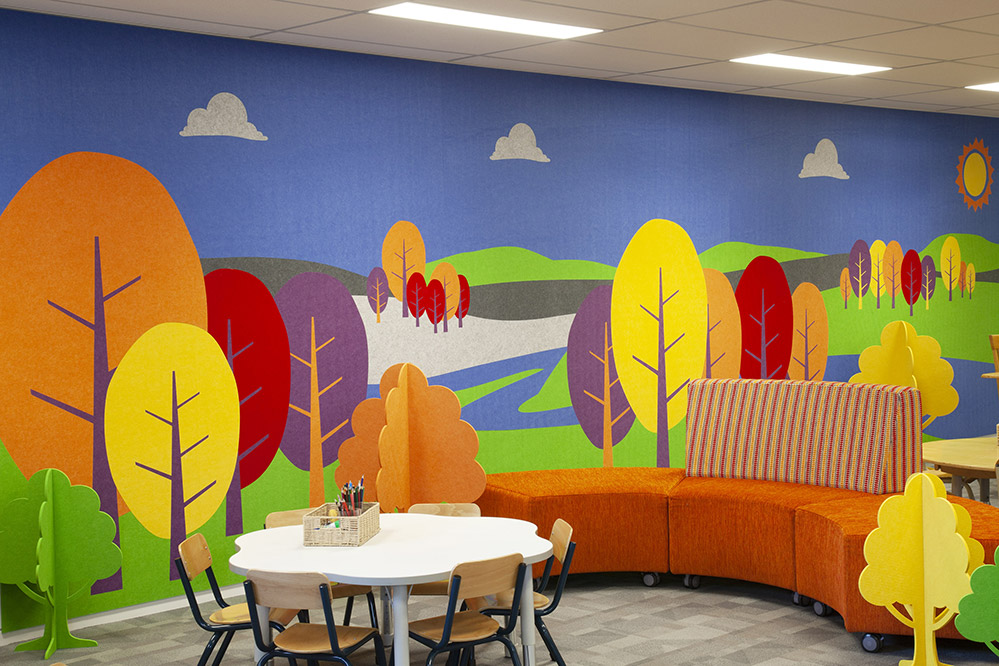 Marinda talked about how difficult it can be to manage classrooms when teachers have to strain their voice to compete with the noise.
When they discovered AudioArt™ on the market she said: "We looked at this product to try and suck up the sound and stop it bouncing…" AudioArt™ is constructed from sound absorbing polyester fibreboard that is 100% recyclable.
AudioArt absorbs noise up to 7 times more effectively than regular classroom walls. AudioArt™ is such a versatile product in that it can not only be wall mounted, it can also be hung from the ceiling and made as free-standing artwork.
Students love the freestanding cubby house and castle because they offer a quiet retreat for them to relax on a cushion and read a book or have time out for reflective thinking. Making these cubbies the perfect little retreat from the busy and bustling open plan classroom.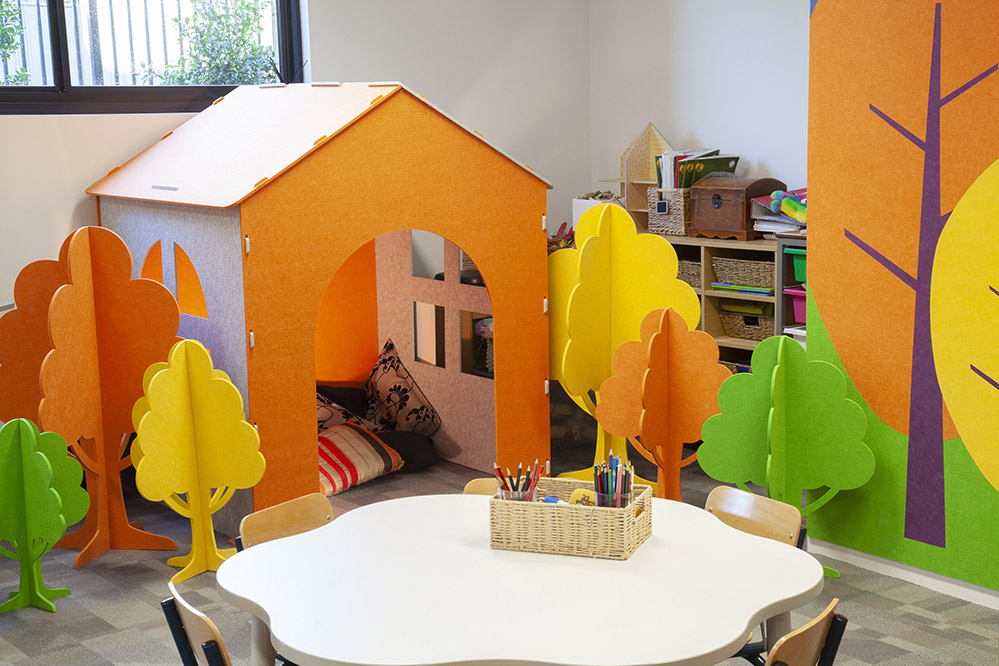 These beautiful floor-to-ceiling AudioArt™ scenes really show off the Art of Noise Reduction.
Who said artwork has to be static? AudioArt™ leaps from the walls and brings the scene to life right before your eyes. Students can play among the freestanding apple and pine trees and imagine they really are part of the autumn or fantasy scene above. The vision for this space was to create a playful and buzzing learning environment that would inspire and ignite little learner's imaginations.
We're so excited to finally share what AudioArt™ is capable of and we look forward to its future in modern classroom design. Stay tuned for the full case study video coming soon!
"The children have just loved it. Its helped our environment to look really bright, colourful and playful which is really important to stimulate their learning and their confidence, their ideas and their imagination"