Is your workplace holding you back?
Changing your office with these easy office design tips can make a big difference in your productivity.
The right office design is essential for increasing productivity among your employees; and not only that, it also has a great impact on your company's culture.
This may seem trivial at first, but if you look at some of the most successful businesses, their office workspaces are designed to promote an environment where employees are comfortable, motivated, and happy. Take a look at the fun and creative office designs at Google, Facebook and YouTube and you'll see what we mean.
Hold on . . . There is no need to panic and spend a fortune on redesigning your whole office. A few design tweaks will do the trick and the best news of all?
We have come up with these 5 Office Design Tips to Improve Workplace Productivity:
1. Identify Existing Design Problems
Before you start the redesigning process, get to the root of your existing problem. Identify the type of office design floor plan that is suitable for your company. Maybe Open Plan would work well for your company, maybe Closed Plan is needed or maybe Activity Based Working suites your business the best
The best place to start is to ask yourself these questions:
Are your employees comfortable?
Will your employees spend most of their time sitting in front of a desktop computer?
Will they need a larger space to accommodate office tools?
These are just a few things to identify first and there are more that you can supply. After this, you can come up with solutions to incorporate when you do the office space redesign.
2. Maximise Lighting
Proper lighting design can adequately improve productivity in the workspace while helping employees stay focused and inspired.
Bad lighting can cause:
Eyestrain
Headaches
Fatigue
Irritability
Depression
Nobody would want these health issues to plague their employees.
Consider using natural light sources in your office. Make use of all your windows and arrange your office layout so your employees get as much natural light as they can.
If your building structure doesn't allow for windows in the office area then consider adding a skylight or use mirrors to help bounce light around the room. They also help make the space feel more open and add depth.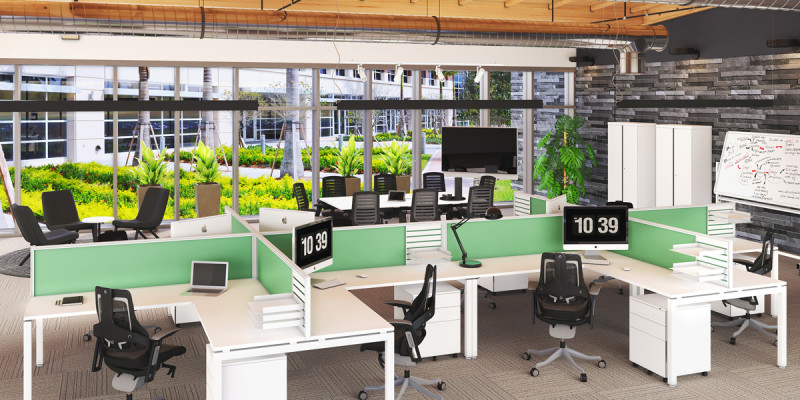 3. Invest in Ergonomic Office Furniture
If you who work at an office, chances are you spend most of your workday sitting in an office chair. You can only go so far as your body can carry, at the end of a long day; your neck becomes stiff, the back aches and eyes are strained.
How can you prevent this from happening?
Investing in ergonomic office furniture is the best solution.
Make sure the office furniture is designed for today's work environment where most of us are sitting at our office chairs for a long period of time.
Having a correctly fitted office chair and office desk will not only increase your productivity, it will also keep you healthier and happier. Don't skimp on this tip.
4. Declutter & Add Proper Storage
Most offices accumulate endless piles of paper that never gets sorted. The office space is not just a place where you get work done, it is also the face of your business.
It must look tidy and organised not just for the sake of for clients but for your employees as well. The best way to de-clutter and organise files is to add proper storage.
Bookcases, shelving and cabinets offer centralised storage solutions to keep all your files in one place.
5. Create Collaborative Spaces
If employees feel chained to their desk, chances are they will still experience bouts of unproductivity even if the office space is well-designed.
Make sure that employees get the chance to talk, mingle and work with each other. Creating collaborative areas is an innovative way to promote productivity.
This works particularly well if most employees in your business do similar tasks all day.
These collaborative areas will keep your employees from sitting at their own desks all day thus keeping them from zoning out.
A simple yet very important tip to keep note of. It will increase employee productivity right away.
What Can Better Office Design Achieve?
Now that you've read through some helpful tips above, you may still have one big question that begs to be answered.
What Can Better Office Design Achieve?
Increased productivity
Increased motivation
Increased creativity
Increased comfort
Better morale
Better communication
Better teamwork
Less distractions
Do these simple office design tips really increase your company's revenue and make your business more successful?
The answer is YES!
This conclusion may be subjective, but recent research shows there's a link between employees' happiness and their productivity at work. Many companies are noticing- and are already seeing the payoff when they changed there office design.
If you apply these tips when designing your workspaces, you can give your company a much-needed productivity boost.