Building a positive classroom culture is a gradual process that if done right, can create a shared sense of community and respect in the classroom.
A classroom culture reflects the values of the teacher and the student.
It's about creating a positive and safe environment where students are encouraged to listen and be heard, offer ideas without judgement, and build long lasting relationships with each other.
Set Responsibilities Rather Than 'Rules'
When we think of rules we often think of someone telling us what we 'can' and 'can't' do. There's a distinct difference between enforcing a set of rules for students to follow, and coming up with a shared set of responsibilities together and following them.
Shifting the mind frame of classroom expectations from 'rules' to 'shared responsibilities' teaches students ownership, accountability and gives them a sense of empowerment.
It starts with language. Instead of saying 'Put your rubbish in the bin', how about asking, 'Let's keep our classroom tidy. Rubbish belongs in the bin.'
Creating chore charts and colourful posters are a great way to display these 'responsibilities' in an engaging and visual way in the classroom. It can be a fun class activity . . . . . as well as a way to establish a set of mutually agreed upon student responsibilities.
Get to Know Your Students
Building positive relationships with students starts from day one. It goes beyond learning their names. Students need to feel comfortable in the learning environment if they are going to excel. Fostering relationships built on trust can go a long way in creating a positive classroom culture. It starts with getting to know your students. All teachers have their own techniques and tried and tested activities that help them get to know their students.
Here's some ideas we found:
Play People Bingo – create a Bingo chart with various facts for students to cross off about their fellow peers.
Create a Human Scavenger Hunt – create clues with facts about particular students and let them discover who the clue is about by getting to know their fellow peers.
Create a 'Get to Know Me' Survey – use Survey Monkey to create and publish an online survey with personally tailored questions.
Make up a secret class hand shake – get students to act out their secret hand shake every time they come to class.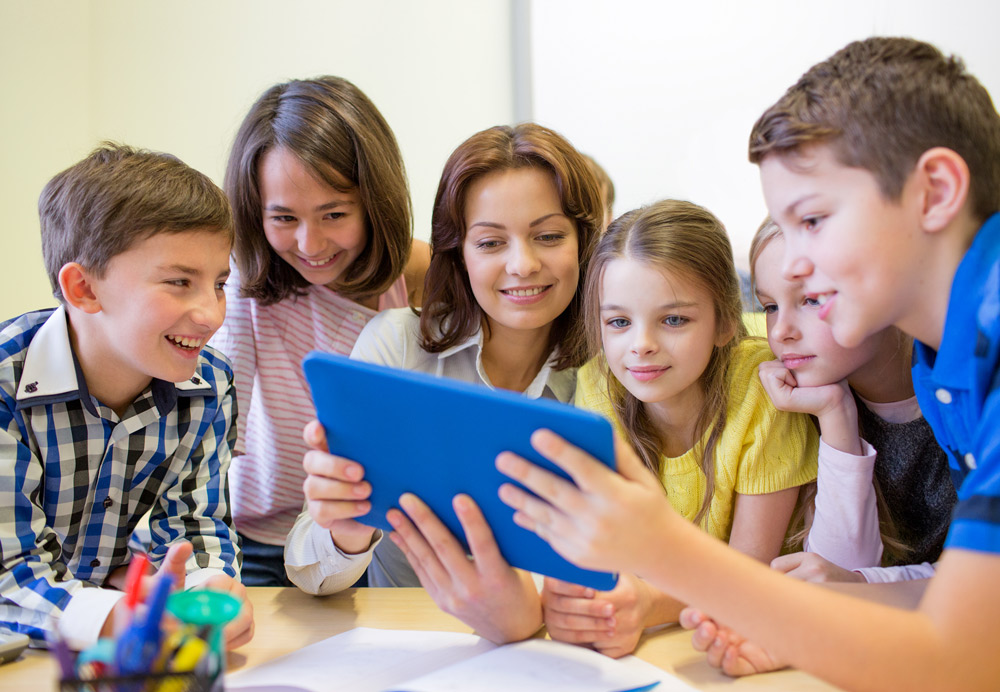 Have Daily 'Check Ins' With Your Students
Having a small meeting with your students at the beginning or end of the day can be an essential tool to strengthen relationships and build sense of connectedness in the classroom. These sessions can function as a way to get feedback, check students understanding and allow them to reflect on their learning. . . . . .Or they can be purely about getting to know your students, letting them share their aspirations or any exciting news with the class.
Foster A Collaborative Classroom
A positive classroom culture promotes opportunities for students to develop their social skills share their academic achievements. The learning environment plays an important part in allowing students to work together. Allow your students to re-arrange the furniture in unique configurations for group work. It's a team activity and it lets them design their own learning space.
Flexible learning environments that promote collaboration between students foster a classroom culture with positive relationships built on achieving positive learning outcomes.
Encourage Growth Mindset
A growth mindset is something that needs to be nurtured.
A classroom that encouraging a growth mindset sets up a safe environment where students understand that it's okay to fail and it's okay to make mistakes. Those failures and mistakes can become opportunities for students to identify ways in which they can grow in their learning. A little positive reinforcement in the classroom and regular self-reflection can go a long way.
We found a few fantastic Growth Mindset Activities:
In cards for your students with inspiring messages and laminate them so they last longer.
Create a 'Change your words – Change your Mindset Wall' with common negative phrases flipped into positive ones. For example, 'I don't understand' = 'What am I missing?'
Let your students create their own colourful inspirational growth mindset posters for the room.
Get your students to write a letter to themselves at the beginning of the year detailing what they want to learn and what they believe their biggest barriers are. Let them read it at the end of the year so they can see how far they've come.
A positive classroom culture doesn't happen overnight. It happens every day. We hope you found these tips helpful. Good luck!