Effective collaboration is one of the most important part of business success. In fact, according to a handy infographic by Clinked, 96% of executives cite a lack of collaboration or ineffective communication as the reason for workplace failures.
Today's workforce is mobile, connected and places emphasis on collaborative work to get the job done.
So how can you improve workplace collaboration?
Build an Effective Team
There's always that one group of people in the office who are known as the 'dream team'. They are highly organised, they hit their mark every time and seem to have fun doing it.
So, how do they do it?
It's simple really…
They have gotten to know each other as individuals and as assets to the team. Everyone is unique and has a specific skill set. Often when building a team, the first thing you do is decide on the roles and responsibilities everyone will take on.
An effective team is one that plays on each other's strengths to get the job done. The best teams always strive to improve. They critically examine the weakest parts of the project and strategise ways they can do better.
Choose the Right Space
Nothing is worse than being interrupted during an important meeting or being unable to focus with so many people talking in an open plan office.
Choosing a space to meet and work together can either hinder or enhance workplace collaboration. Choose the wrong space and you may lose your focus. Choose the right space and you'll find bright ideas come naturally.
Gravitate towards spaces that will support the type of work.
It's all about Activity Based Working.
– Delivering a highly technical and video based presentation to a large group of people?
A sleek boardroom fully equipped with data and media systems sets the scene for innovation.
– Need to take important phone calls regularly but still enjoy collaborating with co-workers? Acoustic screening or booths can minimise noise whilst maintaining an open atmosphere.
– Need to work together to devise a strategic plan?
A small meeting room equipped with a whiteboard or glassboard and circular meeting table can help provide a focused space for collaboration.
Casual break out spaces with lounge areas and outdoor settings can also create a more relaxed environment for inspiring ideas to emerge.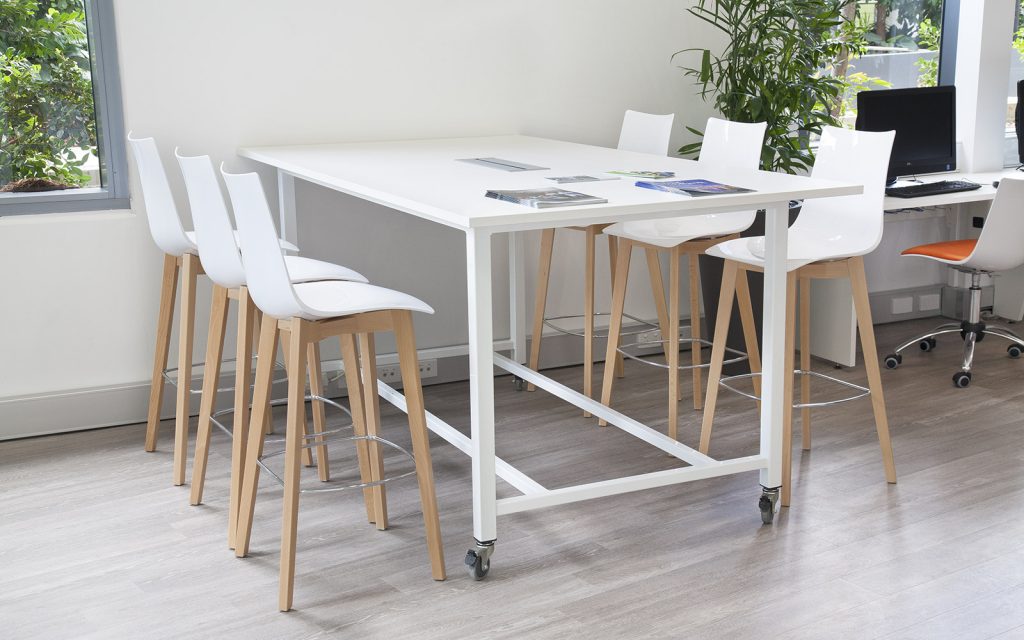 Set SMART Goals
This is such an important practice and can actually be the difference between success and failure.
Well defined goals and expectations are the key to focused collaboration. Without goals, the team won't be able to see the value in the work they're doing and will lack the motivation to succeed. 
So, when it comes to setting goals make sure they are SMART.
Specific: The goal must be clear and well defined. Ask: "What is the outcome we want here?"
Measurable: Having a goal that's measurable means you'll know when it's been achieved. For example, if the goal is to 'increase sales' . . . by how much? What is the target?
Attainable: The goal must be realistic and achievable. If you aim too high and fall short the team will lose confidence.
Relevant: The goal should align with your vision of success and contribute to the overall vision of the company.
Time-bound: The goal should have a deadline or milestones that can be reached.
Here is an example of a SMART Goal. "We want to raise $10,000 in 6 months for a charitable cause". The specific action is raising money, its success is measured by a dollar figure, its an achievable amount within the time frame and has potential dollar figures and time-frame milestones that can be reached along the way. 
Learn How to Facilitate Group Discussions
Communication is vital in workplace collaboration. If a team cannot effectively communicate, they cannot reach their goal. 
It's as simple as that. 
Learning how to facilitate meaningful and productive group discussions makes all the difference. Often a team has a leader and it falls on the leader to organise a meeting, run the discussion and make sure it doesn't get out of hand.
Here are a few tips for running group discussions:
Ask open ended questions (Avoid simple yes/no answers)
Ask follow-up questions (What makes you say that? Can you unpack that idea a little more?)
Have an open mind & encourage creativity
Keep the discussion moving
Give every person a turn to talk
Summarise the main points of the discussion or tasks that need to be carried out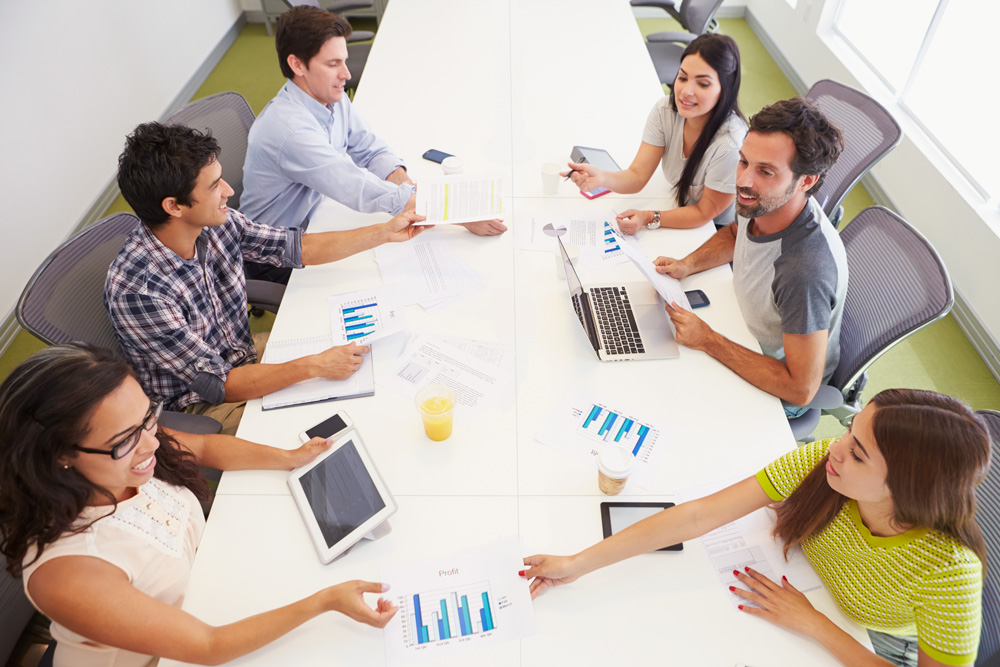 Embrace Online Collaboration Tools
Thanks to the internet, we are now more connected than ever and a team can operate from anywhere in the world. 
This is where online collaborative tools come in. As mentioned in the infographic, 97% of businesses using collaboration software have reported being able to service more clients, more efficiently. It was also found that teams drafted documents 33% faster with a document management tool. 
The most popular ones are definitely OneDrive, Google Drive and Drop Box.
We've also found 3 great online collaboration apps:
1. Slack – a messaging app for teams that saves conversations and allows you to create organised public or private chat channels. Complete with file sharing, searching, commenting and notifications.
2. Trello – an app that lets you create desktop boards that allows you to customise and organise your workflow tasks with your team. Share ideas and sync them across all your devices.
3. Microsoft Teams – a chat-based workspace in Office 365 with built in access to SharePoint folders, OneNote and Skype. Teams stores conversation threads, files and photos. You can schedule meetings and create specific channels. There's even emojis and GIFS.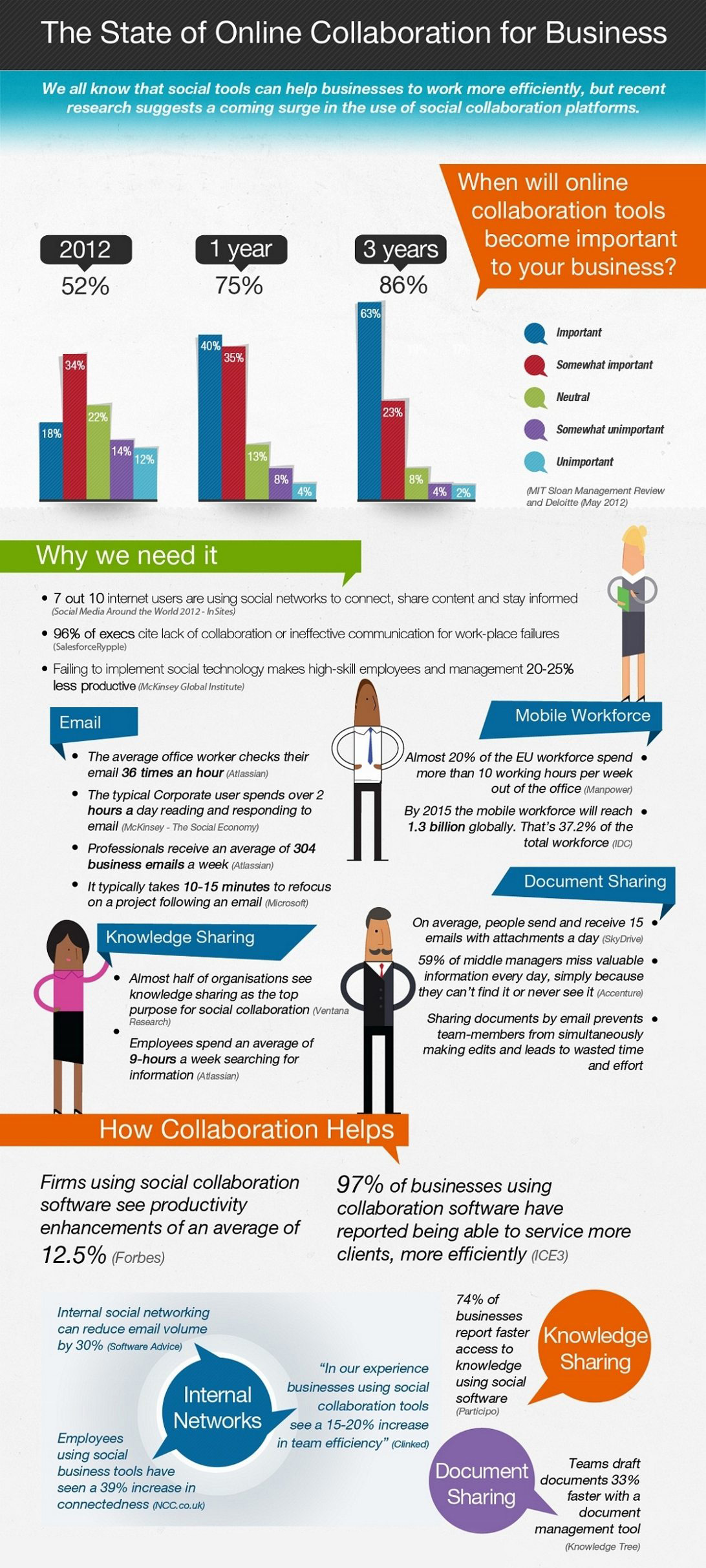 Bonus Tip:
Celebrate success. Acknowledge your team's accomplishments and the accomplishments of other departments or teams. Celebrating success creates a positive company culture that rewards hard work.