If you want to know how to reduce noise in the classroom you have definitely come to the right place.
More schools are adopting flexible open plan learning spaces to support bigger classes and the diverse learning needs of students. However, bigger spaces often mean noisier spaces.
It can be difficult to monitor classroom noise and find the right balance between the 'good kind of noise' of students collaborating and 'too much noise'.
Too much noise in the classroom can result in;
1. Higher levels of distraction and poor concentration
2. Students unable to hear and understand instruction
3. Teachers being unable to hear and respond to students who need help
In fact, The Oticon Foundation's study in traditional primary school classrooms in New Zealand found that:
71% of teachers felt that internal classroom noise was a problem.
More than 33% of teachers indicated they had to speak at a level that strained their voices.
Around 50% of teachers said they had to considerably raise their voices during group work.
In order to understand how to design a classroom that can combat noise, we must first understand that noise can be measured in different ways and there are different types of noise that can affect student learning.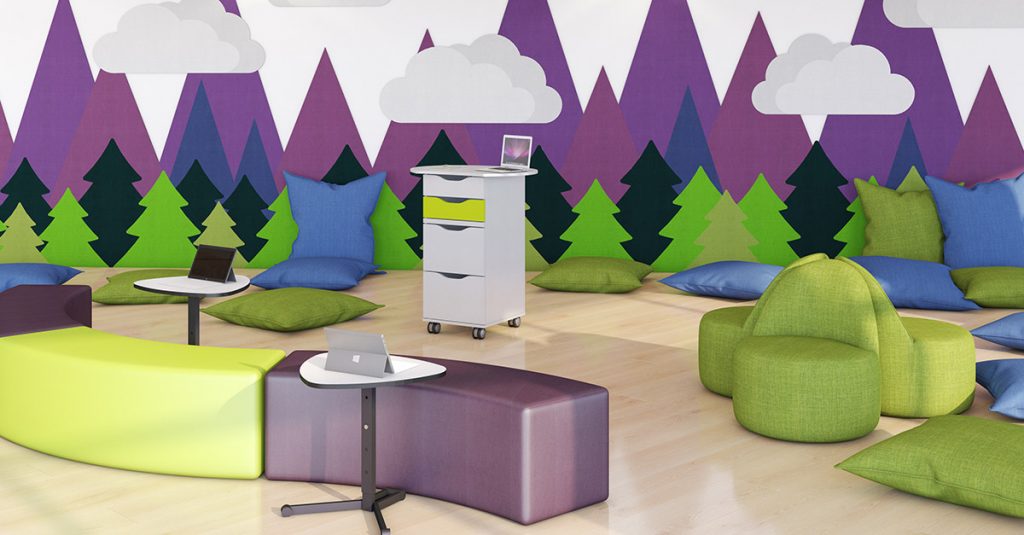 Different Types of Noise
Background Noise – Major sources of background noise include HVAC Noise (from vents and air-conditioning units), Outdoor Noise (from cars, planes and playgrounds), Reflected Noise like echoes, and Noise from Adjacent Spaces like neighbouring classrooms or hallways.
According to the Association of Australian Acoustical Consultants, background noise in unoccupied classrooms should not exceed 30-40dBA or less when unoccupied. For the best results, a spoken voice should be at least 15dB above the background noise level throughout the room.
Reverberation –
Reverberations occur when sound waves strike surfaces like floors, walls and ceilings are reflected back into the space. This can be the most distracting type of noise as it is often amplified during whole class activities.
Reverberation is measured in seconds and is an indication of how quickly sound decays within a space. Research suggests RT should not exceed 0.6 seconds in the classroom. Reducing the RT will help reduce the overall noise level within the room without negatively affecting the signal-to-noise ratio.
Signal to Noise Ratio (SNR) – The difference (in decibels) between a sound that is desired to be heard (such as the teacher's voice) and other sounds (such as activity noise).
The SNR is typically lowest at the back of the classroom furthest away from the teacher or near a noise source like an open window or an air-conditioning unit. This is why students who sit at the back of the classroom are more prone to distraction. They cannot hear and understand the teacher as well as those seated at the front of the room.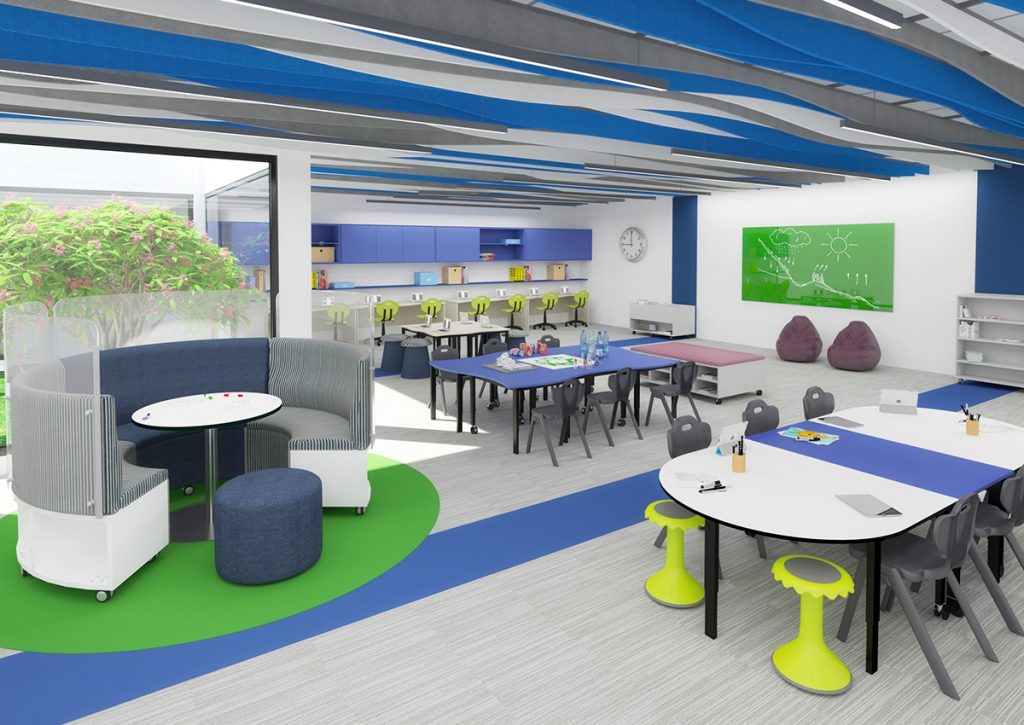 Noise Absorbing Panelling on the Ceiling
The most common way to reduce noise in the classroom is to block out any noise that passes through walls and ceilings.
When designing learning spaces with high ceilings, ceiling panels constructed from sound absorbing material can help minimise the RT in the classrooms.
But how do you determine what is the best sound absorbing material to use?
One way to measure how effective your selected acoustically absorbing material is using the Noise Reduction Coefficient (NRC), the standard rating for how well a material absorbs sound.
The NRC rating can be viewed as a percentage. For example, an NRC of 0.70 means that 70% of the sound that comes into contact with that material is absorbed and not reflected back into the room.
Sound absorbing ceiling panels or sound absorbing ceiling tiles are the most well-known way to minimise noise.
If high ceilings are a must-have in your classroom, the acoustic ceiling tile you use should have an NRC of 0.70 or higher.
Design experts from the Association of Australian Acoustical Consultants recommend that sound absorbing panels should be placed to minimise Reverberation Times to less than 0.4s in primary teaching spaces and 0.6s in secondary teaching spaces, including at least 40% absorptive treatment on the ceiling.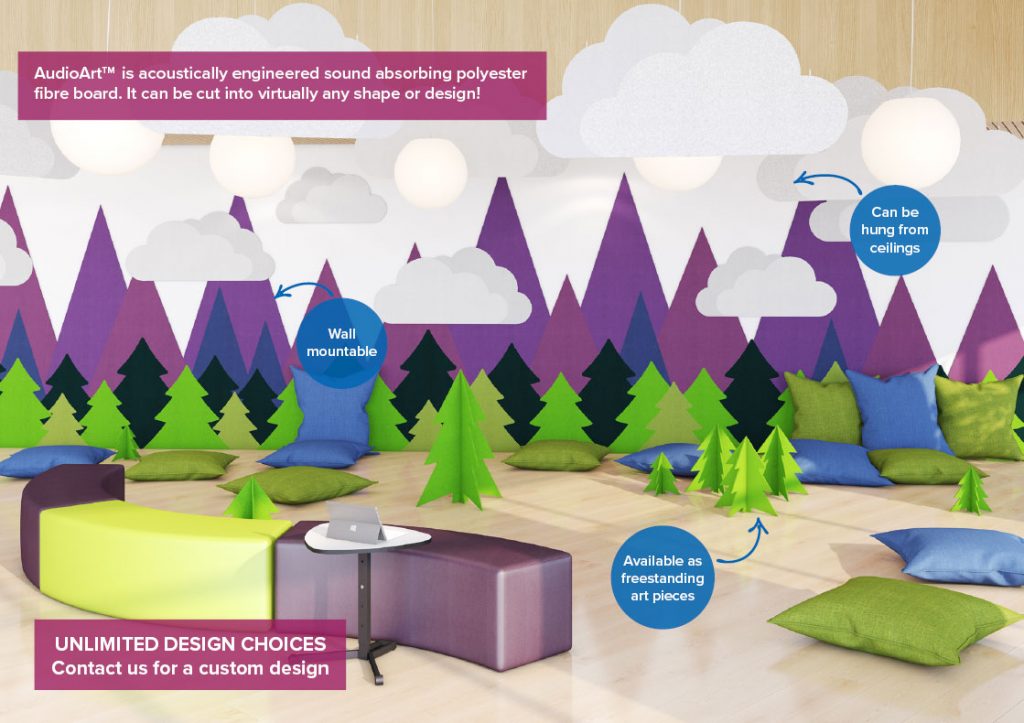 Sound Absorbing Material on the Walls
According to leading architects and designers, the sound-absorbing material should be fixed to the top of the walls and the rear wall. However, the front wall should remain a hard surface to reflect sound to the rear of the classroom so as not to interfere with the Signal to Noise Ratio (SNR).
Installing high-performance acoustic panelling on the walls within a 0.95 NRC range reduces classroom reverberation times, thereby reducing the amount of noise reflected back into the room.
We call our new decorative sound absorbing wall panels AudioArt. Our sound absorbing wall art achieved outstanding sound absorption results in the frequency range of 100Hz to 4000Hz.
Key results with 100mm air gap:
– 0.92 NRC at 500hz – 92% noise absorption
– 0.96 NRC at 800hz – 96% noise absorption
– 0.88 NRC at 1250hz – 88% noise absorption
The best part?
Not only does AudioArt effectively reduce the amount of excessive background noise that interferes with student learning, it looks fantastic doing it.
We here at BFX Furniture have combined revolutionary noise reduction techniques with imagination to create wall art with a purpose. Create an under the sea theme, interactive free-standing displays, a jungle theme, a mountain range or map of Australia on the wall. The limit is your imagination!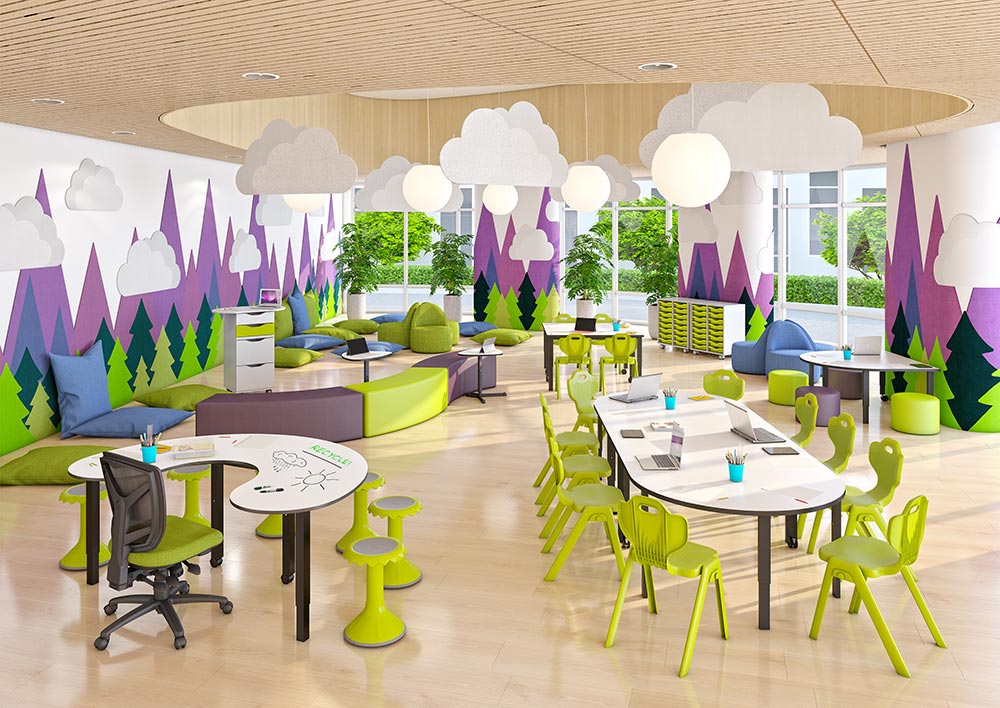 Absorb Sound with Furniture
You might be surprised to learn that soft furnishing like lounges, ottomans, cushions and armchairs can reduce noise in the classroom too.
Not only are free-standing screens, pin boards and cork boards functional visual aids for the classroom they also absorb some distracting noise.
Furnishing a room isn't just about aesthetics. Classroom set up, and furniture arrangement can have a huge impact on noise.
Use zoning to create break out spaces for quiet activities. Future Focused Learning Zones provide a range of adaptable learning spaces that can be separated as required for quiet reading areas, collaboration and communication.
Control Floor Impact Noise
Floor impact noise can arise from walking, chair-scraping and other activities on a hard floor surface.
Classrooms should be carpeted to minimise the amount of floor impact noise created.
Hard floors should be used in isolated areas. Where hard floors are required, look to increase the amount of sound absorbing material nearby. Where practical, carpet should cover the majority of the learning space.
Rugs are also an inexpensive alternative to reduce noise in the classroom from people walking. They also add a pop of colour and some interest to the room.
We hope you found these classroom design tips to help reduce noise helpful. When you're ready to tackle classroom noise head on, contact one of our Expert Education Consultants today.