This is part 2 of our new Furniture Testing & Safety blog series. At BFX Furniture we are dedicated to product testing and ensuring we deliver the safest and most high quality furniture for the Australian education and commercial environment.
The Importance of Product Testing
Product testing is extremely important for any business operating in the manufacturing or retail industry, whether it's consumer goods, cosmetics, pharmaceutical drugs, cars, tools and machinery or furniture. Consumers have the right to know how safe what they're buying really is.
Furniture manufacturers and retailers need to be even more vigilant in their product testing. 
Especially, when according to the ACCC (Australian Competition & Consumer Commission), at least 14 children under nine years old died in Australia during 2000-2015 after domestic furniture fell on them.
Product safety in Australia is governed by Australian Consumer Law (ACL) detailed in the Competition and Consumer Act 2010 (CCA). 
Suppliers who fail to comply with product bans, standards or mandatory reporting requirements may face fines and penalties of up to $220,000 for an individual, or $1.1 million for a body corporate.
How Do You Know What You're Buying is Safe?
The only way to really know how safe your furniture is safe is to ensure it has been properly certified and tested to Australian Standards.
Everything from healthcare furniture, education furniture, office furniture, commercial furniture and even residential furniture should possess some kind of certification under Australian Standards.
What are Standards?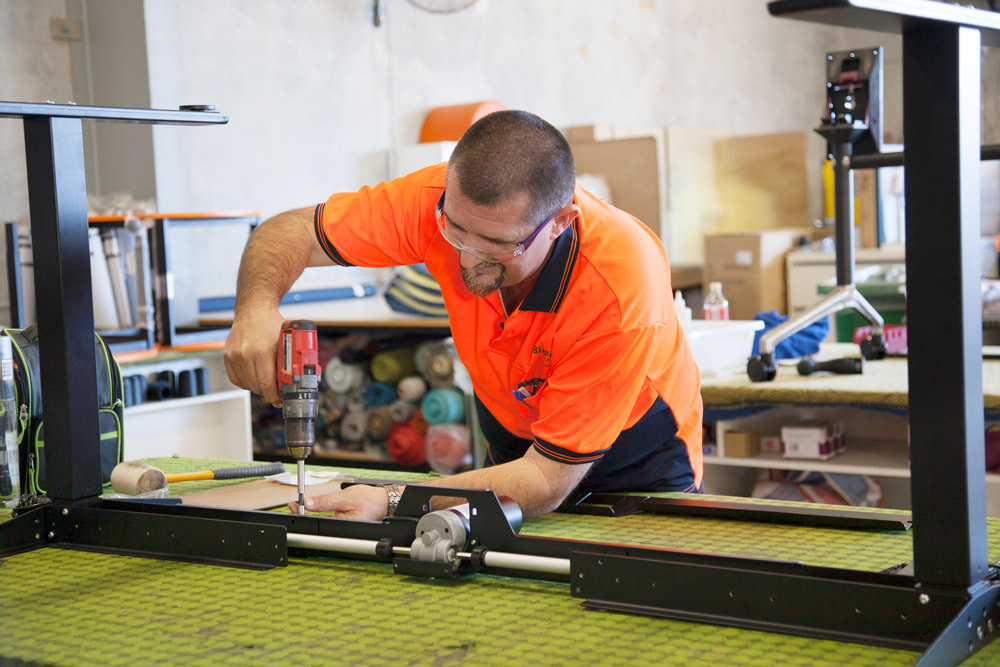 Buy From Government Approved Suppliers
Suppliers and products approved by Government Contracts by default must hold certain certifications and uphold high standards of testing in order to be accepted into the standing Arrangement.
By purchasing products from suppliers approved under the Queensland and NSW Government Arrangements, you can be assured that you will be receiving products that are safe, certified and high quality. Not only that, these contracts assure you get better 'value' for money from trustworthy quality assured suppliers, not just prices.
BFX is one of the preferred suppliers on the Arrangement for the NSW Government under:
Office Furniture Prequalification Scheme. Scheme ID: SCM0771
BFX is one of the preferred suppliers on the Arrangement for the QLD Government under:
DET 68449 SOA – Queensland Government Furniture
DET SOA 100926 – Supply of Emergency Furniture
As per the terms and conditions of DET SOA-100926 Supply of Emergency Furniture Manufactured with E0 board and commercial fabrics. 7 Year warranty.
Look for the DET logo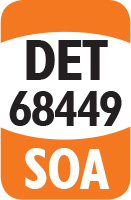 What Certifications Are Out There?
There are a number of companies that provide furniture testing and certification services.
There is the SGS (Standard Global Services), a Swiss company providing inspection, verification, testing and certification services through their global network of laboratories and testing facilities.
BIFMA (Business and Institutional Furniture Manufacturer's Association) has their Safety and Performance standards reviewed every five years according to guidelines established by the American National Standards Institute (ANSI).
AFRDI (The Australasian Furnishing Research and Development Institute) operates in Australia and New Zealand as an independent not-for-profit technical organisation that provides standards, testing, product certification and research for buyers and sellers of furniture.
Our Guarantee
At BFX Furniture we have the most tested products in Australia under the AS/NZS 4610 Standard specific to Schools.
While the majority of our office desks and workstations are certified under the AS/NZS 4442: 1997 Office Desk and AS/NZS 4443: 1997 Office Panel Systems and Workstations Standard.
A number of our fixed height visitor chairs are tested and certified to the requirements of AS/NZS 4688:2000 Furniture – Fixed height chairs (levels 4, 5 & 6).
Our range of ergonomic height adjustable swivel chairs are tested to the requirements of AS/NZS 4438:1997 – Height adjustable swivel chairs (levels 4, 5 & 6). This standard is regarded as appropriate for people up to about 110 kg.
AFRDI is dedicated to testing and certifying furniture for both education and commercial environments. During product testing, each item is subjected to extensive testing procedures for safety, stability, durability, flammability, strength and rated load capacity and holds the certification for a period of 3 years. By which time the products are then subjected to follow-up testing to ensure its continued standard of quality and performance.
Make Sure You Have A Valid Warranty
Warranties are a guarantee provided by the product manufacturer.
It assures the buyer that the products you purchase are high quality and free from any manufacturing defects. Warranties give consumers the right to ask the manufacturer to resolve any defects according to their terms and conditions.
The vast majority of BFX Furniture Education and Commercial products are backed by an impressive 7 Year warranty. For a checklist on what to look for in a warranty visit part 1 of our Furniture Testing & Safety blog series.
Emissions Testing
In the office environment, exposure to harmful gas emissions occurs primarily by inhaling formaldehyde gas or vapor emitted from office furniture constructed with plywood and laminated veneers, as well as the adhesives that bind them.
CETEC in conjunction with FORAY Laboratories, conducts Volatile Organic Compound (VOC) Emissions Testing on a wide range of Australian and international products. They assess building materials such as flooring (carpet, timber, vinyl and coatings), adhesives, furnishings (fabrics, furniture blinds) and insulation materials for their chemical VOC emissions.
While the E0 Board classification is reserved for products that meet the E0 formaldehyde standard set by The EWPAA (Engineers Wood Products Association of Australasia) and have less than 0.04 formaldehyde parts per million (ppm).
The E0 logo ensures that products containing timber board are sourced from sustainably managed forests. Laminex's Structural MR E0 board has achieved the Australian Forestry Standard/Programme for Endorsement of Forest Certification Schemes.
So, look for the E0 board classification or CETEC logo to ensure the products you purchase have met emissions testing standards.