Should Sit-Stand Desks be in Every Classroom?
Studies show that children sit 4.5 hours of a school day and another 3 hours when they get home; that's 31 % of their waking life spent in a sedentary position. 
The future of learning is moving away from the traditional schooling methods of teacher-centred classrooms; where kids sit quietly and are expected to attain copious amounts of information.
The future of learning is moving away from the traditional schooling methods of teacher-centred classrooms; where kids sit quietly and are expected to attain copious amounts of information.

Student-centred classrooms shift the task of teaching to the students, intending to stimulate their desire to learn.
A loss of productivity in the classroom is caused by a lack of concentration due to kids being restless and uncomfortable.
What if we could give them the option to be in any position they like, whether it be sitting, standing or kneeling on their chair?
Kewstoke Primary is a forward-thinking, sit-stand desk school that focuses on letting children express themselves and develop independence.
Headteacher, Sarah Harding explains that "Children learn better in different positions and at different times of the day." Harding went on to state that sit-stand desks reduced misbehaviour notably.
Sit-Stand Desks for Health
There is a vast range of benefits when it comes to sit-stand desks, and the main topic of discussion on the matter is health.
Some believe that a sit-stand desk decreases the risk of heart disease and obesity; while this is true, stand up desks are not directly responsible. 
Studies show that operating at a stand-up desk is not enough to affect weight loss. The idea that sit-stand desks prevent heart disease and obesity comes from the change in early habits and routine rituals, in this case, sitting down.
The frequent sedentary position in early childhood through to teenhood instils an auto mindset that to get work done; one must be sitting down. By changing this concept, educators can reset the trajectory of a child's health and well-being. 
Dr Daniel Bingham, the senior researcher for the Bradford Project, states that sitting down for long periods of time can lead to a spike of insulin in the body which can lead to high cholesterol, diabetes and respiratory issues.
Dr Bingum goes on to say that a sit-stand desk can be beneficial for one's posture and sitting can be bad for your posture.
Headteacher of Kewstoke, Sarah Harding states that on average, the students of her class only spend 20 minutes at the sit-stand desks before returning to their standard desks.
Imogen, who is an eight-year-old student in Harding's class states "the standing desk makes me want to stop fidgeting and makes me concentrate on my work.
Another student in the class claims that "if my legs didn't ache I'd spend all my time there". While it's ambitious to expect that kids will spend all day standing at a desk, having the option readily available has shown positive results.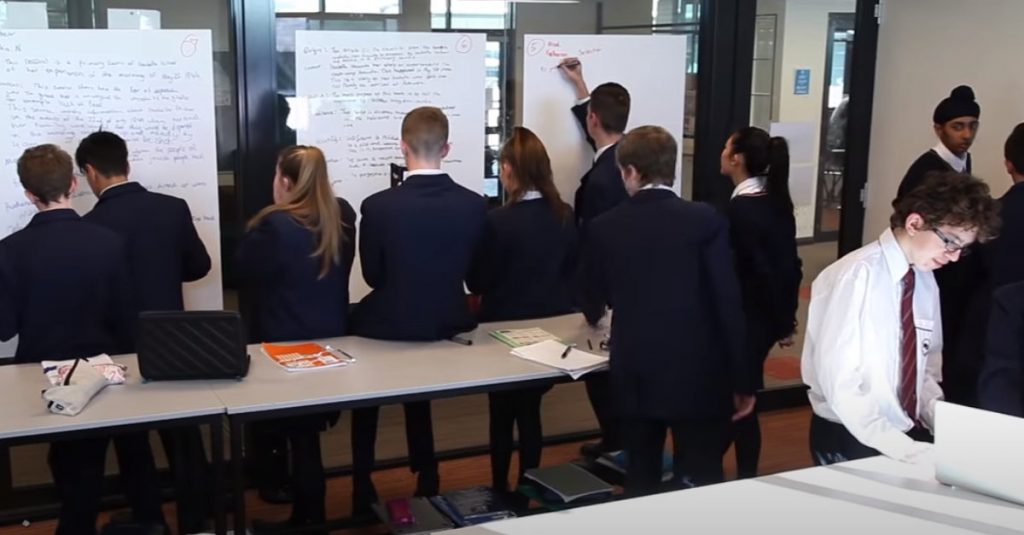 The Learning Benefits of the Sit-Stand Desk
Stand up desks run perpendicular to the student-centred learning approach. Giving children the freedom to choose whether they situationally learn better standing or sitting coincides with teaching them independence and motivation for learning. 
We all know that children posses a lot of excess energy, and trying to contain that by forcing them to sit down usually results in fidgeting and loss of concentration. The learning benefits of stand up desks allows the student to relocate to a position where that energy is vented, but the attention is not affected.
A loss of concentration can also come from distraction.
A learning benefit of stand up desks is students having the option to remove themselves from a distracting environment. 10-year-old Millie is also a student at Kewstoke, and she says that "if I want to concentrate on English and I want to do really good work, I go and stand there".
Most adults will say that they do their best work when they are isolated and in complete peace and quiet. While collaborative work for children is essential, why should the need for isolation be any different? 
By providing a place of solitude, pupils can achieve consistent concentration and heightened productivity.
Should Sit-Stand Desks Be in Every Classroom?
Vallecito Elementary in San Rafael was the first stand up school in the US. They have declared incredible progress with an increase in productivity and positive behavioural patterns in students.
Kelly and Juliette Starrets were the first to initiate the Ideology at Vallecito Elementary. They have recently gone on to start the non-for-profit organisation 'Standupkids' which aims to have all US schools standing up in the next decade. 
It's wrong to state that sit-stand desks should be in every classroom, but it's safe to say that school must adapt their learning methods now more than ever. 
Education departments must adopt the student centred classroom, guiding the next generation into a community of leaders.  Granted, changing an entire school's learning philosophy is a hard thing to do.
For students that are transitioning from traditional to student centred learning, it can prove challenging. Understandably, changing the way a child learns overnight is almost unattainable. 
That's why beginning the transition to student centred classrooms should start with the physical changes. Introducing sit-stand desks is the best way to evoke this change. 
Children's response to a physical difference that they can see and understand helps with their flow into change. By showing them the freedom to learn and work in their own ways, you are igniting that foundational sense of independence and responsibility. 
All around the world companies are introducing sit-stand desks into their offices. With productivity maximised, the transition seems obvious. 
So why isn't it changing in schools? 
Is a change like this too scary? 
All research points to the benefits of having the option to stand whilst working and clearly outline the repercussions of sitting for extended periods of time.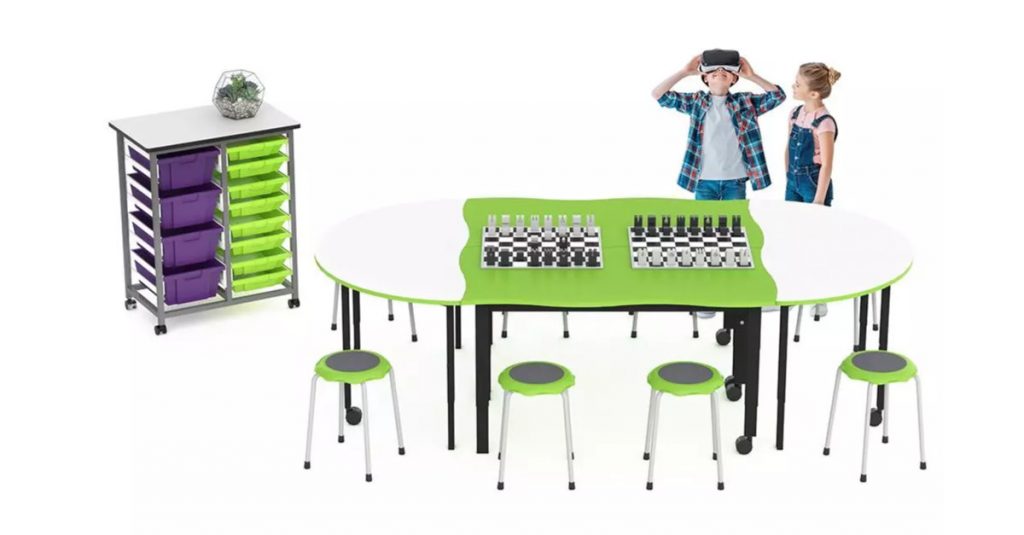 Sit-stand desks have been around for longer than you think, with some of history's greats claiming to reap its benefits.
Virginia Woolf, Ernest Hemingway and Winston Churchill all preferred to craft their stories and speeches in an upright position.