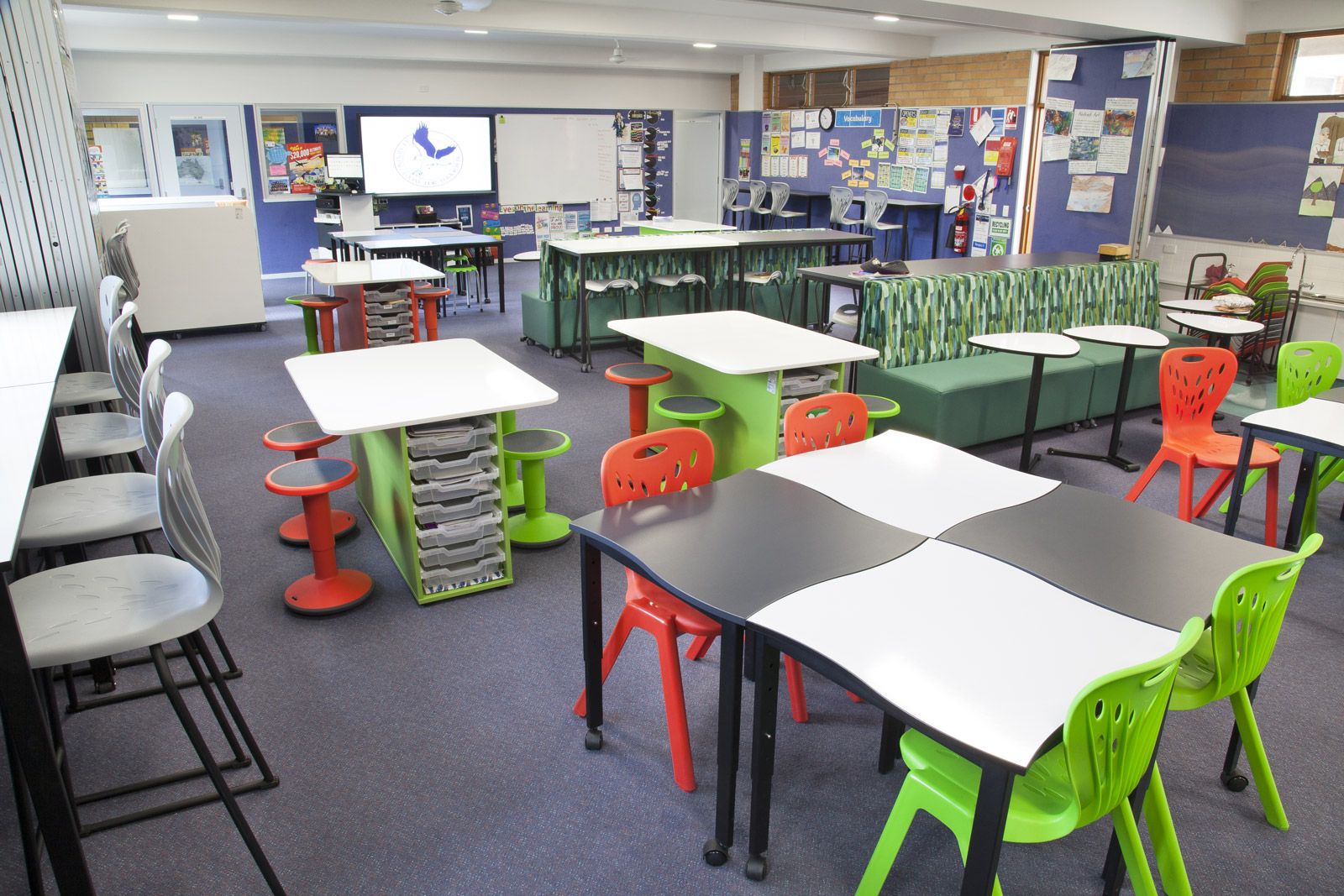 My name is Gareth Allegretto. I work for BFX Furniture and look after the Newcastle to Port Macquarie region.
Forster Public School first approached me to roll out 6 GLA classrooms after they were impressed with the service and the quality of furniture that we provided in their Library previously. 
What they were trying to achieve was 21st century furniture. 
They wanted me to try and create difference zones in the classroom. From soft seating to high bar seating towards the back to create Grandstand Seating, right through to laptop bar tables where students can either make the choice of standing up sit sitting down on stools.
They also wanted to have flexibility in the classrooms as well.
Having individual desks that they can move around and they could height adjust them depending on the actual size or the height of the child as well.
Some of the furniture chosen in these six classrooms was not only some of our most popular items, but some of our latest items that can suit 21st century learning. 
We have Collaboration Zones with individual SmarTable Twist Single Tables which can be used in multiple facets from two to four to six people and more. They chose Zone Laptop Bar Tables where students can stand up or sit at the stools.
One of the most popular items they chose that I was very impressed with were the Happy Daze Booths to create a Hangout Zone where six students can sit with a whiteboard table in the centre.
Not only that there are actually whiteboards on the back of the Happy Daze Booths. 
If they want to have some Critical thinking time and have students sitting down by themselves or in a group, they can write on the back of the Happy Daze Booths and then they can rub it off which is quite simple. 
They are also mobile. They can move them around the classroom to suit any different teaching pedagogy that teachers are after in Public School systems today.
Another one of the items that they chose was the Island Storage Bench. The advantage of the Island Storage Bench is that it comes with trays for storage on the side. From fourteen small trays to large trays instead if you prefer. 
There are different colour melamine options at the bottom and also a whiteboard top. Around the Island Storage Benches we put Zip Active Stools. 
Zip Active Stools are not only height adjustable, they are also a swivel stool as well. 
So not only will it work for students that have trouble sitting there and learning, but it will also work with core strength. It increased the students core strength. It helps them sit upright in more situations.
Now that the teachers have seen the furniture and the layout of what we have provided from BFX furniture, the school is looking at rolling out some of these flexible furniture layouts in all classrooms over a period of so many years to come.
That is what I believe is the BFX Difference. 
We handle everything from start to finish. From measuring, concept drawing, quoting, ordering to delivery, making sure that everything is taken care of.