Last time we spoke about how to implement a green office program, we barely scratched the surface with our 4 Tips for a Green Office. This time we are here to step it up a notch with 20 more tips. Think of this post as your ultimate green guide. Your one-stop reference for green office design ideas or a place to find inspiration for some eco-friendly supplies.
We guarantee you're sure to leave here with at least a few ideas that you will want to try in your own office. Let's get started.
1. Eliminate Wasteful Printing 
This tip may be one of the most obvious ones, but it's also one of the most natural switches you can make. You can save pages and pages of printing with just a few clicks to change your font to a smaller size and by setting your print jobs to print double-sided.
2. Keep Digital Notebooks
Instead of paper ones. OneNote and Evernote are fantastic note taking programs that sync across all your devices and allow you to organise your notes, pages and ideas in a much more manageable way than having stacks of physical notebooks you have to rifle through.
3. Skip Printing Meeting Agendas & Handwriting Notes
Save paper and save the time you would have spent deciphering your illegible handwriting to transcribe the meeting notes to send to your colleagues. Send out a meeting request to your colleagues through Outlook with the proposed agenda attached and just bring an iPad or your laptop to the meeting to take notes.
4. Choose E0 Furniture
We know, we know . . . We did mention this one last time, but we couldn't resist. Ensuring the air in offices is free from toxins, and formaldehyde emissions goes a long way to help prevent sickness from breaking out. E0 Board is also sustainably sourced, which is why its a must-have for eco-conscious offices. The vast majority of our office furniture and education furniture is constructed with E0 board.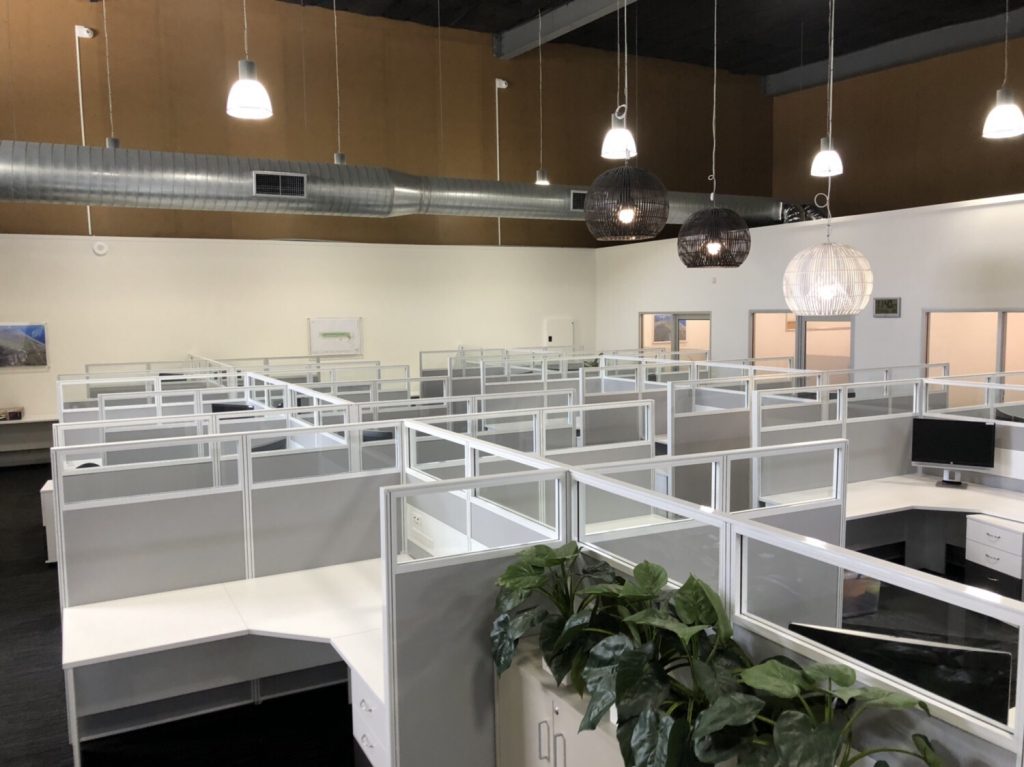 5. Update your Mailing Lists Regularly
Set aside time every few weeks to cull any unsubscribe mailing requests from your database. This will help ensure you don't get so many 'return to senders' and you save on paper, printing and postage costs.
6. Install a Bike Rack
A bike rack is a simple one-time investment that can have a significant impact on how your employees commute into work every day.
Bonus: it will also encourage your employees to get more activity into their workday.
7. Set up a Car Pooling Program
Alternatively, setting up a carpooling system can strengthen team bonds, save on fuel and also reduces the number of cars on the road.
8. Donate or Recycle Old Electronics
Chances are there is already a pile of old keyboards, mouses, faulty cables and broken down monitors somewhere in your office, maybe in your IT managers office.
Hot tip: if you can't find him, he's probably buried under all the boxes.
Have a day once a year where everyone can bring in their unused or broken electronics so they can be recycled accordingly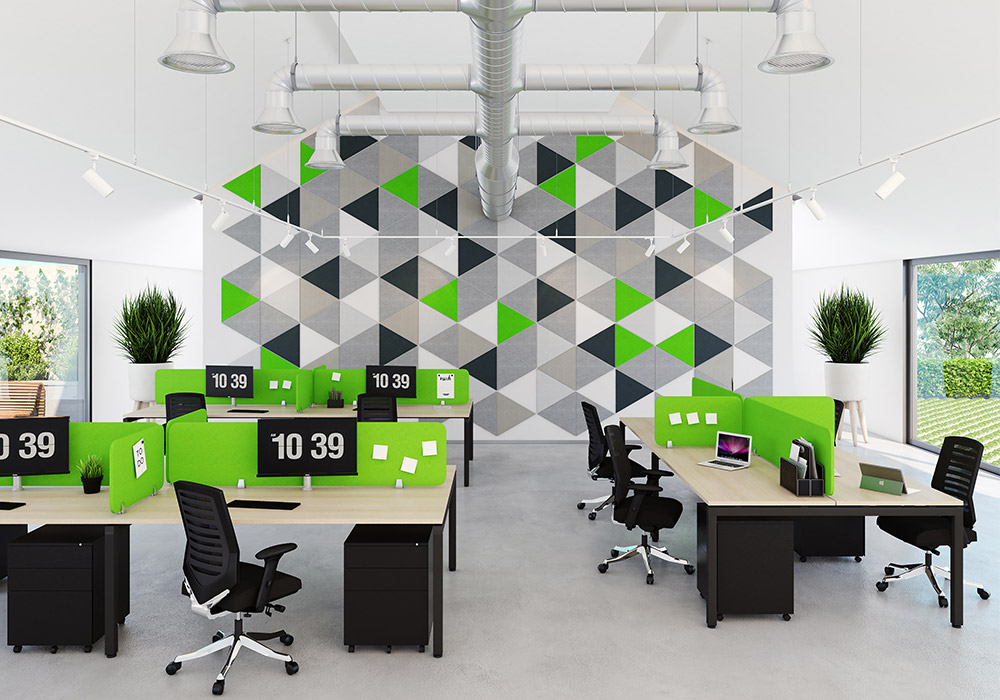 9. Eliminate Screen Savers
Instead, set all the computers to power off at the same time every day to reduce the amount of energy being chewed overnight. Make sure everyone has auto-save set across all their computers for whatever program they are working on to minimise any lost work.
10. Consider Installing Solar Panels
There is no sugar coating it. Solar panels can be expensive, and they might not always be practical depending on your office location and set-up. 
If you believe it could work for your situation, especially if you are planning on keeping your business in the same location for years to come, this investment could save you thousands of dollars in the long run. Check with your local state authority to see if there are any incentives like rebates that you could take advantage of.
11. Use Natural Light Where Possible
We cannot stress how vital natural light can be in an office environment. It's such a simple way to boost workplace wellbeing, productivity and reduce stress levels.
In 2017, in a Leesman study of 250,000 employees worldwide, 75.8% stated that natural light is essential to them, yet only 56.9% were satisfied with the offering in their workplace.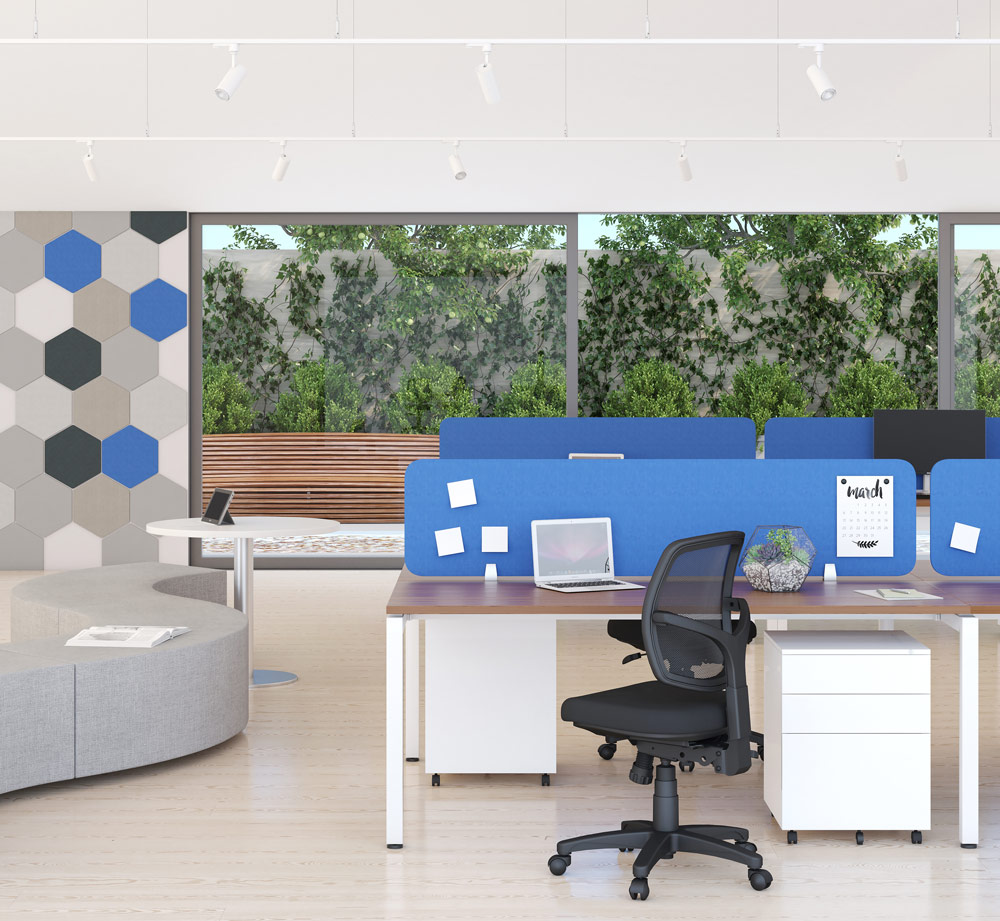 12. Install Motion Light Sensors
If you were to take a walk around your office building right now, you might be surprised to see how many offices and meeting rooms have lights on despite being unoccupied. Installing motion light sensors ensures the lights turn off whenever the room becomes empty and saves on electricity costs.
13. Use Compact Fluorescent Bulbs
According to the Department of Environment and Energy, LEDs use about 75% less energy than halogen light bulbs and last 5-10 times longer, significantly reducing replacement costs and the number of light bulbs ending up in a landfill.
14. Buy Re-manufactured Ink and Toner Cartridges
Not only do re-manufactured cartridges cost about 15% less than brand new ones, but each reused cartridge saves nearly 2.5 pounds of metal and plastic and about half a gallon of oil, all of which is wasted in the manufacturing process. Talk to your local Printer company, in most cases, they will collect and recycle old cartridges in exchange for a discounted service.
15. Ditch Paper Towels in the Kitchen & Bathroom
Cloth towels and microfiber cloths can drastically help reduce the amount of paper waste produced. They also feel a lot nicer than stiff paper towels. Keep a few stocked under the sinks and set a laundry rotation roster around the office at the end of the week.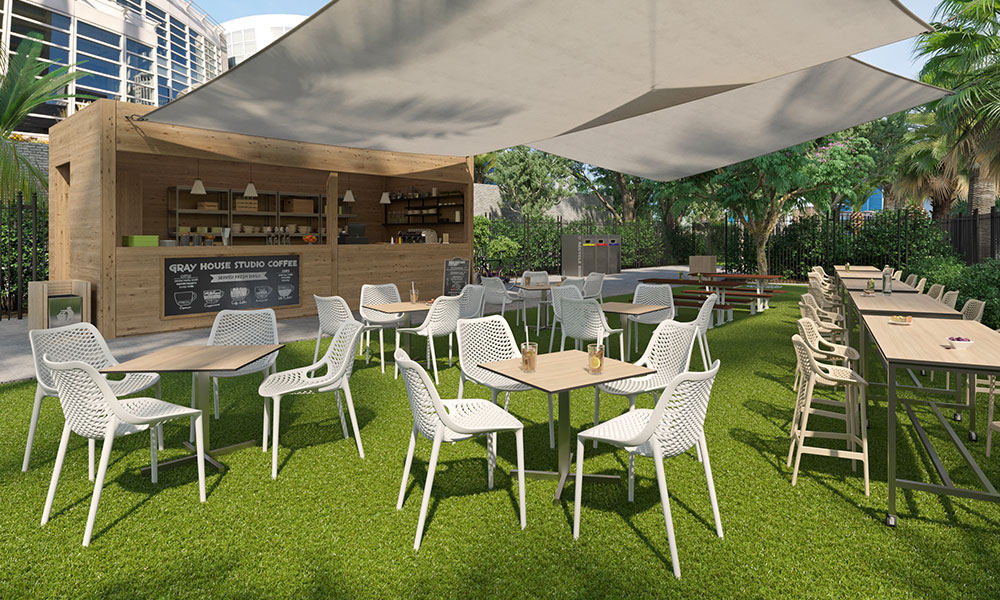 16. Purchase Reusable Cutlery & Crockery
Stock your office kitchen with reusable cutlery, mugs, cups, plates & bowls and serving utensils & platters to take care of those catered lunch events in the office.
17. Use Eco-friendly Cleaning Products
Environmentally friendly cleaning products protect the health of not only your cleaning staff but also your employees, by eliminating harmful substances and scents from the office.
18. Start a BYO Keep-Cup trend or BYORB trend
BYORB = Bring your own reusable bottle. You could even stretch this so far as a BYOM (Bring your own Mug) system. It's estimated that Australians use 1 billion disposable coffee cups per year. 
That works out to be 2,700,000 coffee cups thrown in the trash every day! 
Compared to ceramic mugs, KeepCups take less energy to produce, they're lightweight, durable. KeepCups and Frank Green cups are manufactured right here in Australia too, so you are also supporting our local businesses.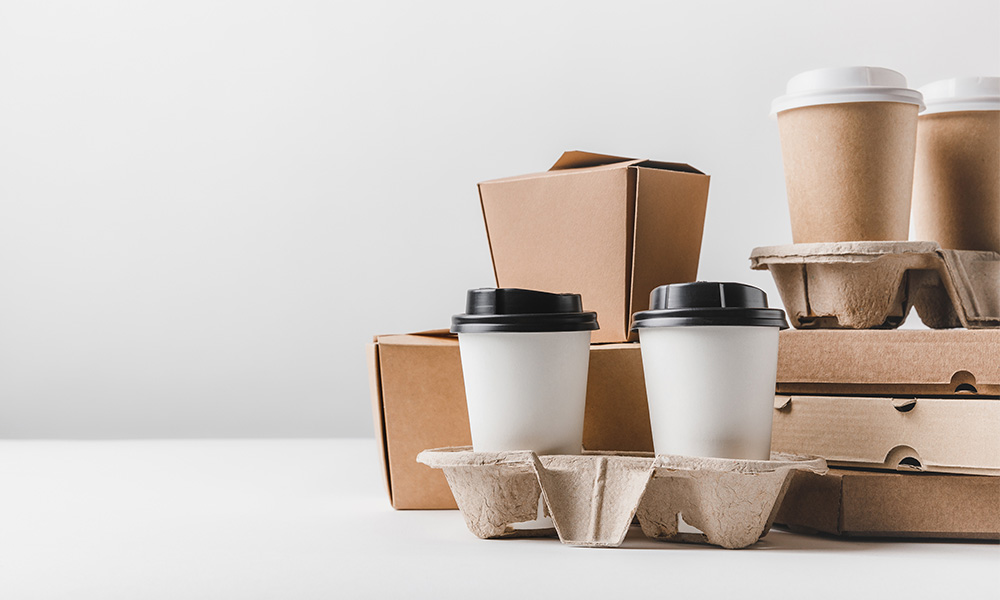 19. Subscribe to a Monthly Fruit & Veggie Box
This is a green tip that can benefit the whole office. Who doesn't want free fresh fruit and veggies to take home? Bulk food boxes can easily be divided up amongst employees. This is such a great way to support local suppliers and provide healthy snacks for the office.
20. Go Green with Plants
We know we said this last time, but it's important. Plants help fresh up the entire look and feel of the office. They filter oxygen, and they're great mood boosters. Why not create a vertical herb garden in your office kitchen for people to help themselves to? Just make sure you don't forget to water them regularly.
There you have it! 20 More Tips for a Green Office in 2019. It's never too late and honestly its not even that hard to start making a few sustainable switches in your office today. We have implemented a fair few of these green tips in our own offices. Our favourite one by far is our KeepCups because we LOVE our coffee and we love saving the environment. Its all the little things that when done collectively, contribute to the biggest change.