Primary school and middle school library design has adapted. 
No longer are the days of the traditional library furniture ensuring a stiff back the next morning.
School libraries are now recognised as learning centres, growing and caring for the children that one day, will manage our society. 
The ideal library design will nurture this concept by creating comfort within a safe environment. 
BFX provides excellent solutions on how to improve the school library, offering anything from top of the line educational furniture, library shelves, to library spinners.  
Let's discuss the future of school library design.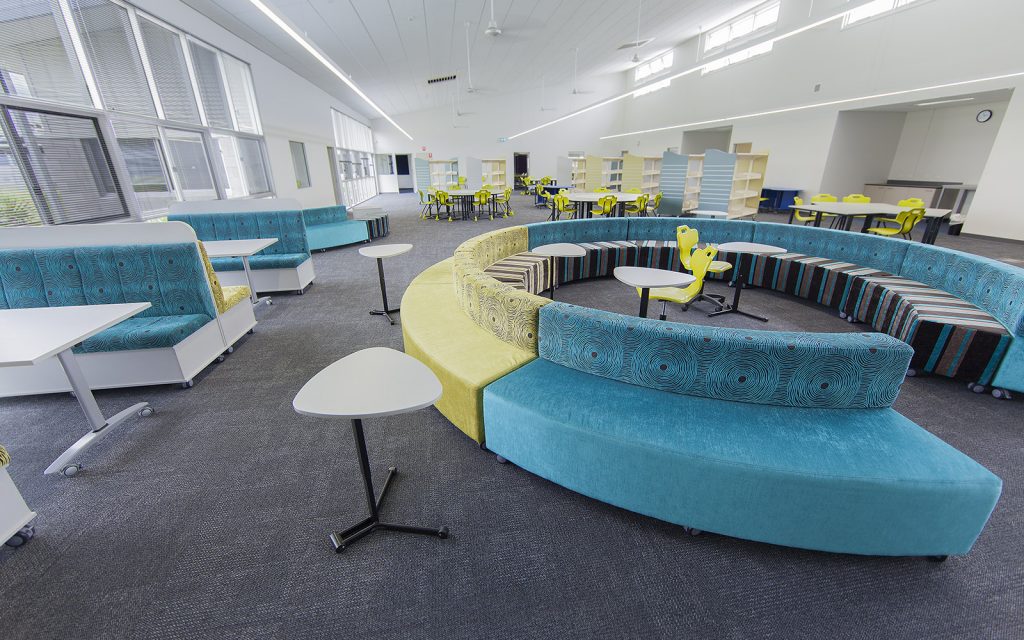 School Library Technology and Design Philosophy
In the not so distant past, it was common for school libraries to stock lots of books and just a few computers. Although the necessity for books has not decreased, the need for technological advances has skyrocketed.
For children to be fully equipped for the future, school libraries must adapt.  As society slowly but surely moves online, it is crucial for the 'children of tomorrow' to have access to all online programs and facilities. 
Many schools around Australia are redesigning their libraries to accommodate student needs. Through providing open furniture instead of closed cubicles, comfortable ergonomic seating and desks for computers, and spacious layouts for group activities. 
The modern library has become a collaborative space discontinuing the idea that it is a sanctuary of solitude. Through functions like Maker Space, cafès, learning hubs, and group tasks, 21st-century libraries are shaping the future. 
By incorporating comfortable and inclusive furniture, school libraries can achieve maximised learning, boosted creativity, positivity and in effect, productivity.
It's not just educational furniture and school library design that is adapting; the role of librarians is changing. Librarians are no longer perceived as bookkeepers, but as mentors and teachers.
Mark Ray, director of innovation and library services for Vancouver Public Schools states that "Librarians must see themselves as leaders, conceive their work as connected to systemic initiatives, and then act collaboratively with fellow colleagues, principals, and district leaders to effect change."
It's simply no longer enough for librarians to run a great library program.
A true future-ready librarian leads, teaches, and supports work beyond the physical walls and conceptual boundaries of the school library."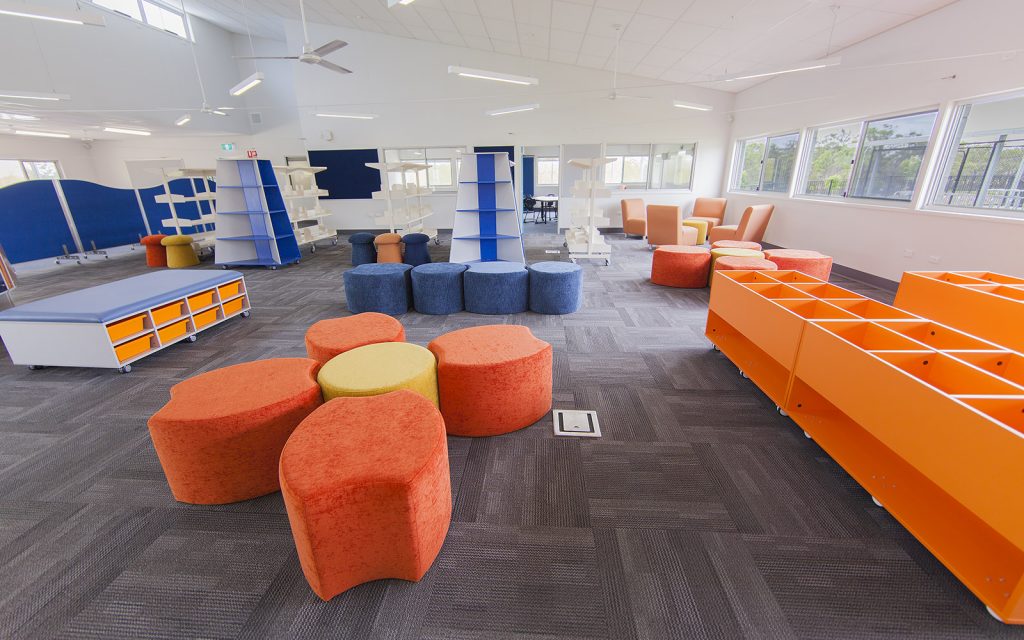 What do the students want when it comes to library design?
Recent studies conducted by CBT, a Boston based architecture and design firm offers great insight towards what the modern student wants. 
Primary school library design compared to highschool library design may differ as the functionality needs to contrast in certain areas. Where high school libraries may need more technological facilities and more private spaces for study, primary schools require more room for activities, collaboration and tactile learning.
The need for more technological facilities in libraries is backed up by a survey from CBT stating that 75% of learning is by phone, tablet or computer.  Not having enough computer resources could or even will affect student learning and progress.
Now we all know that our environment can impact our productivity dramatically. 
Our environment can be a mixture of sound, smell, sight, touch, taste; with sound and touch taking precedence; It is of considerable importance for libraries to get the formula right.
40% of high school students stated that they preferred high table tops in opposition to the traditional high school library furniture, which usually consists of segregated cubicle or carrels.

Keeping in mind the gravity of collaborative work, 40% of high school student stated that private areas and conference rooms were also crucial. It goes without saying that there is a time to collaborate and a time to get it done, especially if it has been left to the last minute and you have before lunch to finish your essay. 
Another contributing factor to productivity and early learning is encouragement, acknowledgment and inspiration. 40% of high school students that participated in the survey stated that they relished in the betterment of having an exhibition space.
The exhibition space allowed them to showcase their work, feed off praise and constructive criticism but also fuel their inspiration by viewing other students' work.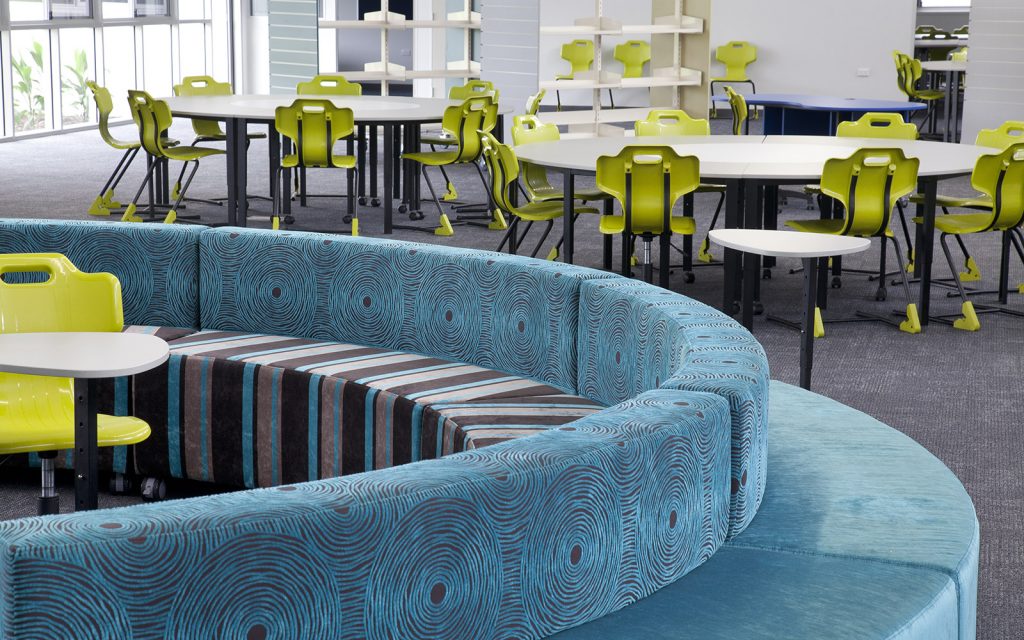 How to Improve the School Library
BFX has some great ideas for school libraries on redesigning their space. 
Pulling budget can sometimes feel like pulling teeth, so here are a few things you can do whether you are working off a shoestring or a metal chain.
Replace some of the old and potentially uncomfortable seating with some brightly coloured student lounges, a coffee table and a few trendy rugs to create a comfortable reading space. Young students are more likely to read in an environment where they feel comfortable and at home.
By using shelving display units or library spinners, you can maximise usage on new books that are purchased by the school.
Ensure seating arrangements are both collaborative, solitary and ergonomic.
Make sure the library is meeting technological requirements, e.g. enough computers, the right computer programs, the wifi connection is strong in all areas.
Buy correct library storage units to avoid cluttered areas.
Use local and emerging artists to stylise the creative spaces.
Simple stylised elements like new cushions, artwork, and lighting can make a world of difference.
Constructing a Maker Space – a creative space designed to promote student creativity through arts and crafts, writing, technology, and inspiration.
If you're a part of a school that does have a larger budget then the options are endless; from creating a cafè that students can refuel and reengage, to creating a conference room for group sessions or student council meetings.
It's important to review potential plans in redesigning the school library because as mentioned previously, times are constantly changing, technologies enhancing and learning methods adapting.
You don't want to go installing something that will be irrelevant in two years?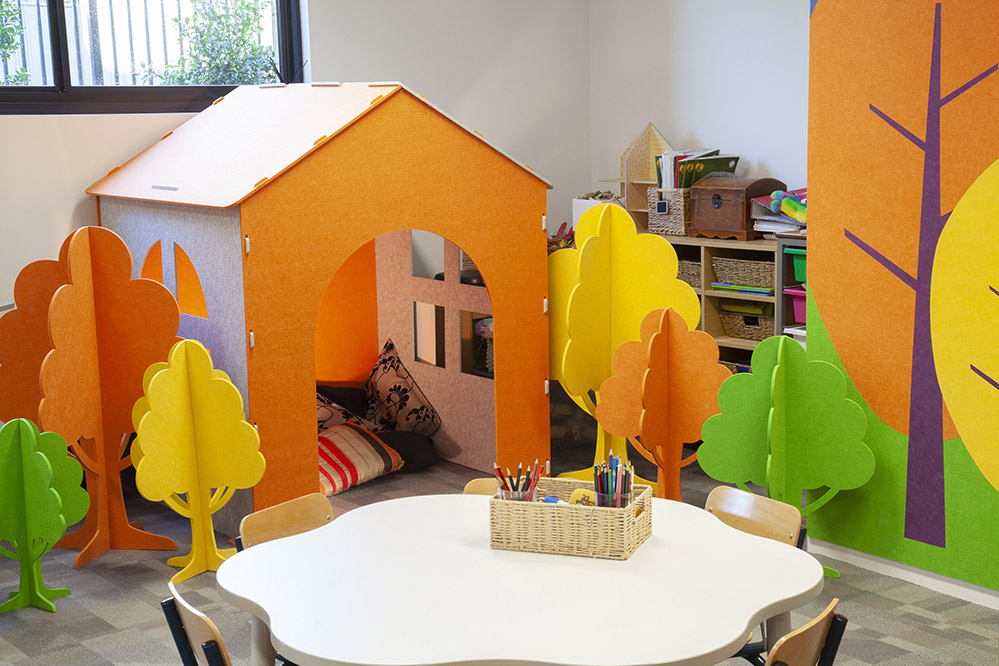 How to Improve the School Library
Furniture and resources are crucial when it comes to learning, but more importantly, the staff that nurture guide and educate the future.  
BFX is the leading library furniture supplier in Australia. Our goal when it comes to school library design is to ensure the students and staff are both comfortable and content with their environment.