The office is a place where many of us spend a great deal of our waking hours. 
Hence, it is necessary to ensure that office decor is ideally pieced together for mood optimization – which can provide a morale boost and ultimately, increased productivity at the workplace. 
A happier and comfier environment will foster a stronger sense of teamwork and cohesion among co-workers. 
Additionally, if your office is a place where clients are invited for discussions, you could stand a chance of leaving an amazing first impression with the right outlay.  
The modern office usually exhibits a sleekness in design, space optimisation and energy-efficiency as a part of ongoing corporate responsibilities. 
Most importantly, the new age office incorporates the DNA of the company within its designs. 
Integrating the Pulse of the Company
Each company carries a unique vision and mission. The story of a brand or company should be conveyed through the design of the office. 
Some companies involve design elements that pay homage to their humble origins. Facebook's office employs the use of garage doors that open to its canteens and facilities – as a reminder of its founding. 
The office is longer a place where people spend their time 9-5 toward earning a living. It has become a physical extension of a lifestyle that resonates with the core values of the establishment. 
Therefore, drab office walls, mundane cubicles and plain-looking pantries are quickly fading into obscurity.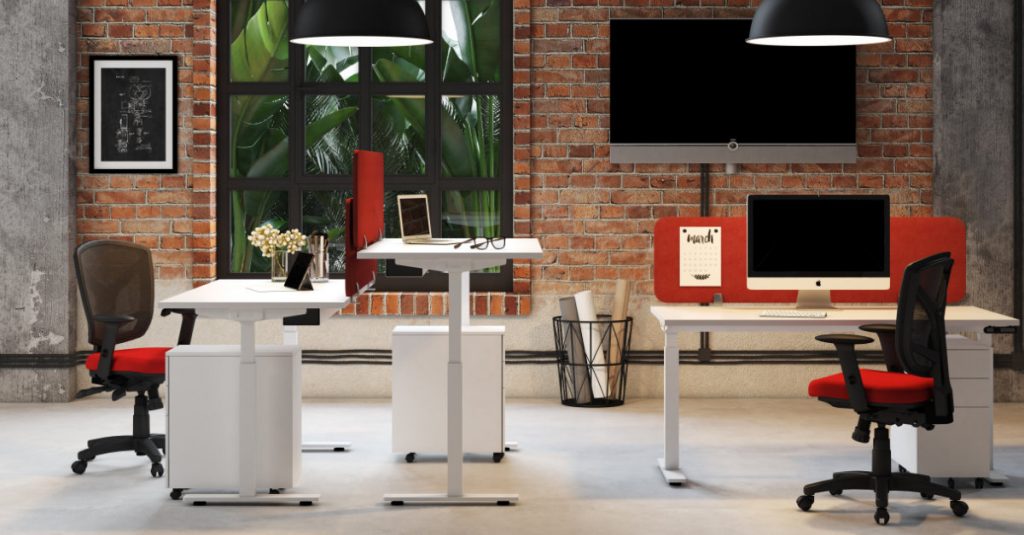 Declutter & Optimize Spaces
Clutter is known to cause anxiety and as such, affects work performance. Additionally, cluttered areas are unhygienic, unsightly and makes it really challenging to locate the specific items and documents that you need. 
Organized Stationary Stations
Pens scattered on a desk is an unattractive sight but common sight in an office.   
A mug with a motivational slogan is one effective way of storing your frequently used writing instruments. These inspirational pen holders will grant you easy access along with a morale boost to get you through the day. 
Less-used/replacement stationary should be stored out of sight, preferably in a drawer or folder. This makes it easy for you to replenish your supply without leaving any clutter behind. 
A brightly lit work area provides a noticeable improvement in the overall mood within the office.

This allows workers to focus better on their work without squinting and reduces any mistakes caused by poor vision. But more importantly, light creates an atmosphere of hospitality and openness – which welcomes collaboration and trust. 
Faulty lights are known to cause a myriad of conditions such as recurring migraines and irritability. Choose a lamp that has an adjustable brightness, which can be toggled to suit various conditions.

Modern day desk lamps usually come with a USB port, making them easily powered through your computer or any other electronic device – this will prevent overloading your electric sockets. 
The right lighting will create a transparent culture where there is nothing to hide and everyone is encouraged to offer a helping hand. 
Drab office cubicles do not inspire- in fact, they might just slow you down. Potted plants and artwork can be easily integrated into your office space to liven up the atmosphere. 
Green plants are known to soothe the mind and form a clarity of thought. A potted plant at your workstation will serve as the perfect distraction from your stressful tasks. 
Dull cubicle partitions can be easily beautified through the use of wrapping paper with vibrant patterns and designs. 
Washi tape (japanese decorative tape) may also be pasted over partitions for a quick facelift to your cubicle spaces. 
Washi tape is readily available in your local DIY store or bookshop. These decorative items come in a range of quirky designs and are highly affordable. 
This means that you can swap out a design whenever you require a change in scenery within your cubicle space.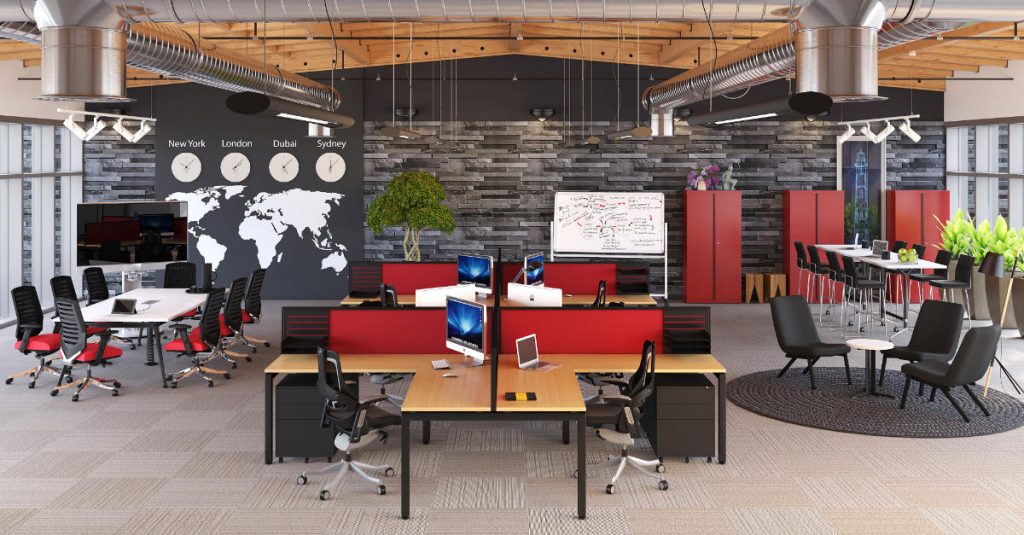 The flooring and walls in an office are features that are often overlooked in an office. Spruce them up to create the perception of spaciousness.  
Wider spaces (or the illusion of it) will enhance comfort levels for everyone and lead to improved focus. 
Color choice goes a long way when it comes down to the interior design of your office. 
The color of office walls and ceilings can subconsciously affect moods.  
Shades of blue are high on the recommendations list. 
The soothing color is linked to the ocean and sky, which are representations of endless possibilities and calmness. Blue can help workers recharge and stave off the dreadful effects of burnout. 
Green is another popular paint option, which has close ties with Mother nature. The color is synonymous with relaxation and cuts down on fatigue.  
Open Office Concepts with the Right Fixtures
Open concept offices are popular these days since they encourage co-workers to collaborate as opposed to working from cubicles. 
Unfortunately, reports have shown that this has been counterproductive in some cases – the main problem being sound pollution. 
From noisy voice calls to disruptive conversations, chatter at the workplace can become a major distraction (and nuisance) that hinders productivity. 
Some individuals are forced to rely upon headphones or choose to work remotely as much as they can as a means of avoiding the office. 
Therefore, if you operate from an open concept office, it is necessary to take some precautionary measures. For starters, the choice of flooring will be a crucial component in your set up. 
Carpeted flooring is known as an effective absorber of white noise while wooden flooring is best avoided since they will amplify the acoustics. 
Mixing and matching furniture and design features for your ideal office can be hard work.
When all else fails, you could always stick to an office decor theme that has been proven to work.
These themes have been observed in international offices that have seen a markedly improvement in staff performance and work culture.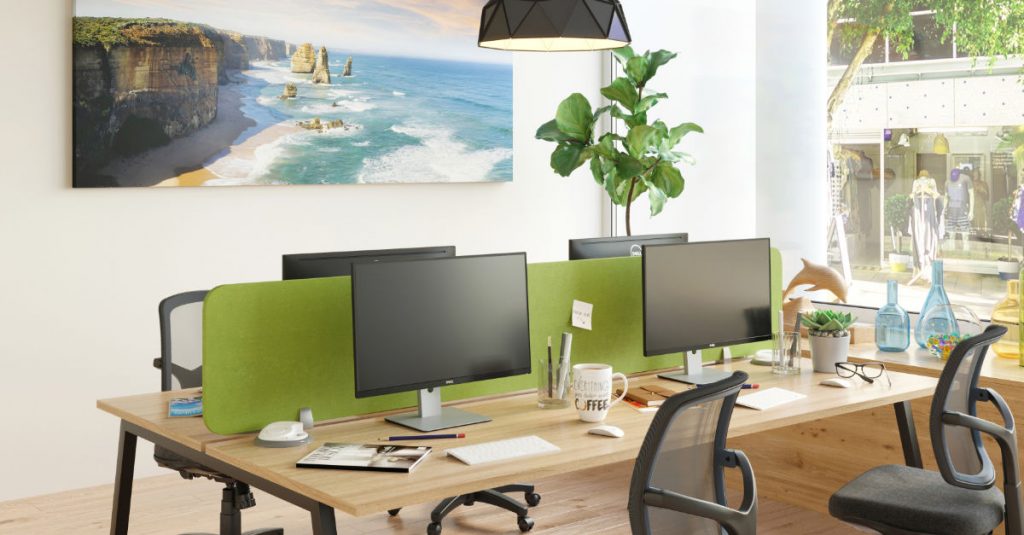 This style focuses on the 3 Rs – reuse, reduce and recycle. Eco-friendly or biophilic offices usually feature  the installation of fixtures and furniture manufactured from wood and other biodegradable materials. 
Plastic and other industrially manufactured items are mostly avoided.  
Plants are a major staple in this style and are usually found in room corners, on desks, and even receptions areas. 
Bamboo, teak and oak are popular furniture material since they are durable and provide a natural appearance to your workspace. 
Larger windows are often preferred as they allow natural light to pour in, which supports the natural setting. 
The sound of water fountains can provide a great therapeutic effect while decorative live plants improve the air quality in the office. 
The sustainable concept emphasises on a disconnect from the distractions of the digital age in order to achieve healthier concentration levels. 
Recent interior designs inspired by Danish culture, in a style known as hygge, is getting increasingly popular among office settings. 
Hygge takes on a minimalist approach that emphasizes warmth and comfort – essentially recreating the fulfilling experience that you get when you're sitting next to a fireplace on a freezing day. 
Hygge involves the use of comfortable lounge chairs, coffee tables and other household installations. 
You may consider adding a personal touch to the decor with a chair or mug from home. Lighting a scented candle can also invoke the spirit of homeliness within your workspace (but it is important to check  with your colleagues first!)
This is a style favored by marketing and advertising firms. Clients are often welcomed to the office where they feel at ease and are more willing to share their ideas. 
Hygge creates a sense of cosiness and mindfulness. When done right, it will make workers feel like they are working straight from the comfort of their homes. 
Unlike Eco-friendly offices, the state-of-the-art concept features the latest innovations in interior design and digital technology. 
Consider installing touchscreen computers, tablets, wireless charging stations and booths where information is readily available to workers with a swipe or tap. 
State-of-the-art offices may also include smartscreen panels, which are versatile installations with adjustable opacity. They provide a wide array of functions, such as blocking out sunlight, creating partitions for privacy during meetings, doubling as digital drawing boards, and more. 
High tech offices will inspire workers by speeding up operations with unmatched accessibility and convenience. This makes way for faster and more efficient teams through the wonders of smart technology.