Fortitude Valley State Secondary College
Fortitude Valley State Secondary College (FVSSC) is Brisbane's first state high school to be built in inner-city Brisbane in over 50 years, adopting a vertical design solution to reflect its urban setting. FVSSC is a flagship, future-focused educational facility, serving the growing communities in Brisbane's inner city north.
The first stage of the new FVSSC was opened in 2020 to Year 7 students. The second stage was opened in 2021 welcoming Year 7 and 8 students. By 2025, FVSSC will have capacity for 1,500 students from Years 7-12.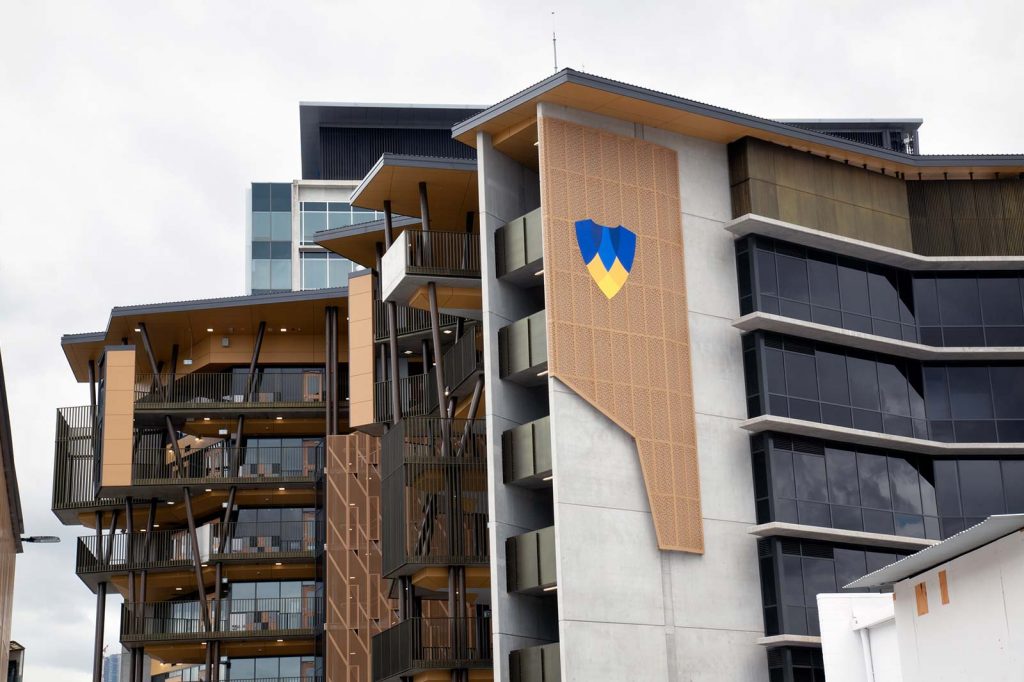 The vision of FVSSC is "to create a community of agile learners who are bold, resilient and kind'. This is being achieved by instilling an expectation that all school members will look after themselves, each other, and the environment and this will enable the vision to flourish, creating an orderly learning environment and a sustainable culture of excellence and innovation.
At FVSSC, they work together to promote a culture:
• That is welcoming.
• In which the conditions for learning are ever present.
• In which they examine how our behaviours affect us, others, and the world.
• In which there is a shared belief that we are part of something special and great.
• In which the language creates and facilitates personal pride, purpose, and power.
Thomson Adsett, in conjunction with BFX Furniture, specified furniture to enhance the school's vision and learning conventions and fit within the urban context of the school's locality – Fortitude Valley. Furniture selections enhance innovation and experiential learning capabilities as well as collaborative and hands-on learning styles. In the General Learning, Flexible Learning and Specialist Learning Spaces, we needed to maximise the entire floor space occupancy. The functionality of the furniture requires flexibility to boost the cognitive development of students, cultivating the capabilities of learners to acquire knowledge and develop 21st-century skills. The flexibility of the classrooms suggest that the spaces need to adapt to all situations. Students and teachers can move to different areas of the classroom setting for different activities. Furniture is agile and able to be re-configured quickly and easily as required.
• Selection and supply of sample furniture for assessment by students assisting in the establishing of usability for Stage 2.
• Furnishing Stage 1 (Performing Arts Centre) including trialing different classroom settings prior to Stage 2 procurement – including GLA's, Flexible GLA's, Staff room areas.
• Partnering with Thomson Adsett to manufacture and supply loose furniture for Stage 2, over seven floors.
• Relocation of Stage 1 furniture into new B1 Building.
The approach to fitting out Fortitude Valley with furniture is quite unique and is possibly a model that should be explored further with other schools across other typologies