We would like to welcome you to the future of classroom design.
We invite you to step inside the BFX 3D Room Planner and see for yourself. You're going to get up-close and personal with all 36 of our Future Focused Learning Zones.
All without leaving the comfort of your chair.
The BFX Room Planner lets you draw your classroom to scale, furnish, decorate and you can even save your design and share it with your colleagues or friends.
The Room Planner has a huge selection of wallpapers and flooring for you to decorate your space. You'll have tones of fun selecting fabrics, colours and finishes for all your furniture.
Why stop at your dream classroom? Let your students design theirs.
Let your students be inspired by Create Zones, work together in Collaborate Zones, express themselves in Communicate Zones, focus and reflect in Critical Zones, share their learning in Connect Zones and join learning communities in Culture Zones.
Now With Over 100 Products!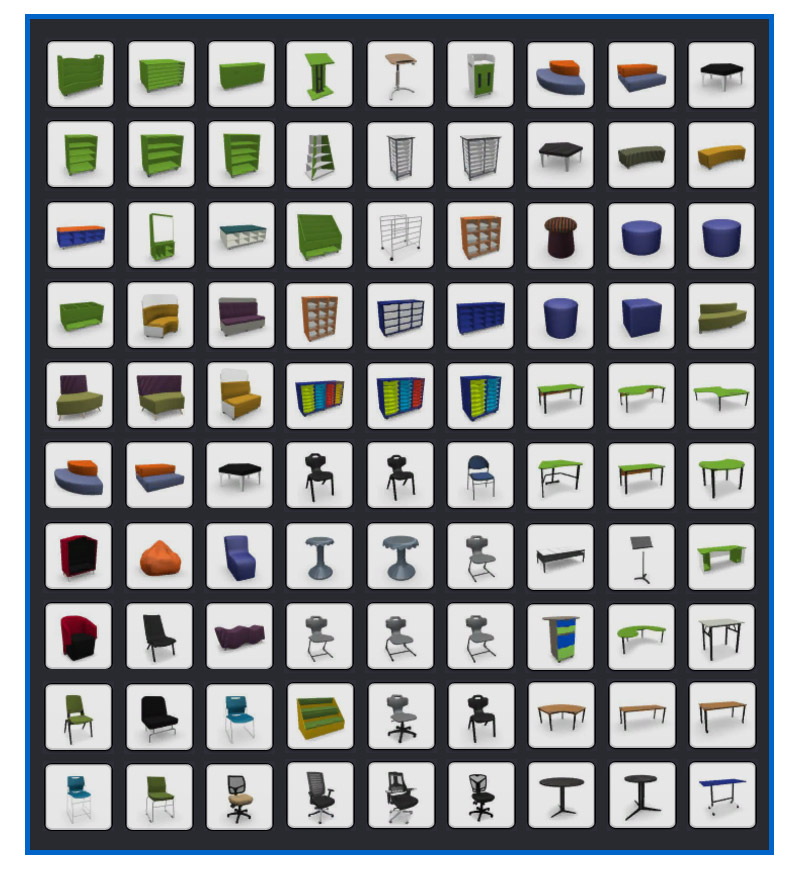 New Products In This Update:
Create Zones
Communicate Zones
Culture Zones
Critical Zones
Collaborate Zones
Connect Zones
Wall-Mounted Whiteboards
Smart Storage Units
Modular Seating & Lounges
STEM Products
More Ottomans
Even More SmarTables!

Activity Spot!
Divide the students into small groups of 3-4 to create their very own classroom designs.
Let them brainstorm what kinds of furniture they want to see in the space, the colour palette and even what configurations they like.
You could even create teams to work on different sections of the classroom.
Let the students draw a rough floor plan on paper and then use the BFX 3D Room Planner to visualise the space. The app version works great on iPads and the web version is perfect for laptops and desktops.
Have each team present their design and allow the whole class to vote on their favourites. Once the winning design has been chosen, it's just a matter of making the space a reality.
Psst want a great little time saving tip?
You should check out our 6 Quick & Easy Classroom Layouts for Back to School.
Why not take a little inspiration from these cool layouts? There's no need to break the bank or break your back shifting around desks and chairs before school starts (then changing your mind). Just plan out your classroom layout in the BFX 3D Room Planner. We promise you, it will save you hours of work.
Until next time, Happy Planning!